Iran
Technology
Senior Cleric Pledges Iran's Swift, Crushing Response to Enemies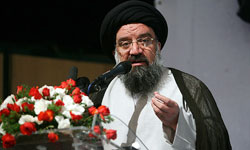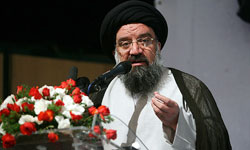 Tehran's provisional Friday Prayers Leader Ayatollah Ahmad Khatami warned enemies about any military move against Iran, saying that aggressors will receive a swift and crushing response from Iran's Armed Forces.
Khatami said the threats put forth by the Zionist regime are nothing but psychological warfare against the Islamic Republic.
He underlined the enemies' incapability to enter into any unwise adventurism against Iran, and said our response to aggressors would be very crushing.
He noted that any adventurism against Iran meant annihilation of the Zionist regime.
Iran has repeatedly warned that its Armed Forces are fully prepared to immediately deliver a crushing response to any offensive on the Iranian territory.
Earlier this month, the Iranian Armed Forces lauded the massive public support for the Islamic establishment in March 2 parliamentary elections, and stressed that it will take every possible option to confront enemies, thanks to the Iranian nation's support.
"The Armed Forces … remind the enemies that they, graced by the Almighty God and backed up by the people's huge support, are prepared to take all options against ill-wishers, aggressors and intruders," the General Staff of the Iranian Armed Forces said in a statement at the time.
The Iranian Armed Forces also cautioned the United States and Slaughterer Israel to stop their warmongering rhetoric since such a policy only leads to loss, damage and trouble for the European and American people.