Iran
Middle East
North America
Palestine
Senior Commander Warns Enemies Not to Test Iran's Military Power
Commander of Khatam ol-Anbia Headquarters Major General Gholam Ali Rashid underscored the Iranian Armed Forces' full preparedness to confront aggressors, warning the enemies of Iran's high military power.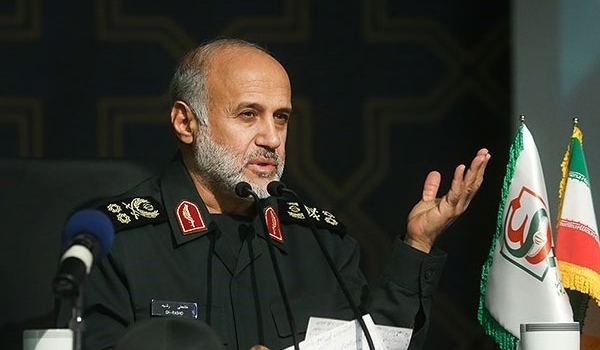 "Although we will not pioneer in threatening and war against any country, we will make those who threaten (us) ashamed and regretful of confrontation against the honorable Iranian nation," General Rashid said, addressing the Islamic Revolution Guards Corps (IRGC) commanders in the Southern province of Hormozgan on Wednesday.
He noted that Iran does not favor any war but "we are fully ready to respond any aggression against our country and hope that the aggressors do not want to understand this issue by practical tests and paying heavy costs".
His remarks came a few days after IRGC Lieutenant Commander Brigadier General Hossein Salami warned the enemies of making any aggression against Iran, saying that they would be chased to faraway territories.
"We have forced enemies to escape and will chase them thousands of kilometers away and will not stop this chasing until purging their remnants from the Islamic states and helping Muslims get rid of them," General Salami said, addressing a ceremony in the Northern city of Qazvin last Saturday.
In relevant remarks last November, Top Military Aide to the Iranian Supreme Leader Major General Yahya Rahim Safavi underlined the country's Armed Forces' full-preparedness to confront any possible threat by the enemies, and said that the terrorist groups would not be safe anywhere even beyond the borders.
"Iran is powerful enough to destroy terrorists, not only on the borders, but also beyond the borders," General Rahim Safavi said, addressing a ceremony in Tehran.
He underlined that Iran is powerful and its enemies are weak; "we tell these groups that the Iranian Armed Forces will destroy them even beyond the borders".