Pakistan
Senior lawyer, his son shot dead in Pakistan's Karachi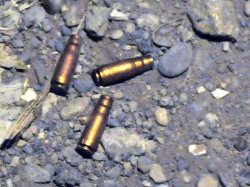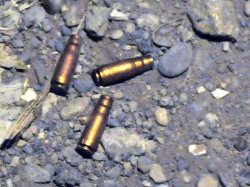 Unidentified gunmen Saturday shot dead a senior lawyer and his son in the Pakistani port city of Karachi in an apparent sectarian motivated attack, police said.
Salahuddin Haider Jafri, a former President of the Lawyers Association and his son Ali Haider Jafri, were heading to office from home when gunmen sprayed bullets at their car in Landhi area.
The gunmen, riding a motorcycle, fled after the attack, police said.
Witnesses said the slain father and son were critically injured in the attack and died on way when they were being shifted to hospital.
No group claimed responsibility.
Police termed the incident as terrorism and said sectarian motives are behind the incident as the slain men belonged to Shiite groups.
A large number of lawyers arrived at hospital and also chanted slogans against the police for failure to arrest the gunmen.
Lawyers also announced boycott of courts proceedings against the incident and demanded arrest of the culprits.
Provincial Home Minister Manzoor Wasan condemned the murder and ordered immediate inquiry.
Karachi, the capital of southern Sindh province and the country's commercial center, has seen the scene of sectarian violence as extremist and banned groups target each other although there is no problem between the majority Sunni and Shiites.
In another incident, gunmen fired at a police squad of a political leader in Landhi area of Karachi, police said. Two police guards of the head of Muhajir Qaumi Movement or MQM-Haqqaqi), Afaq Ahmad Khan, and another man were injured. The injured were taken to a local hospital.
A spokesman for the MQM said that the group chief was heading to Hyderabad, the second major city in Sindh province, when his police escort came under attack. Khan escaped unhurt in the incident.
A police officer Mirza Majeed, termed the incident as a terrorist act and aimed at creating law and order problem in the city.
No group claimed responsibility and the group's spokesman demanded of the government to investigate as to who were behind the incident.
MQM-Haqqaqi is splinter group of the powerful Mutahida Qaumi Movement and both routinely accuse each other of attacks. MQM, an ethnic group of Urdu-speaking immigrants from India, who are settled in Karachi and several other cities after independence from the British colonial rule in 1947.