Iraq
Senior PMU cmdr. denounces Iraqi security expert's assassination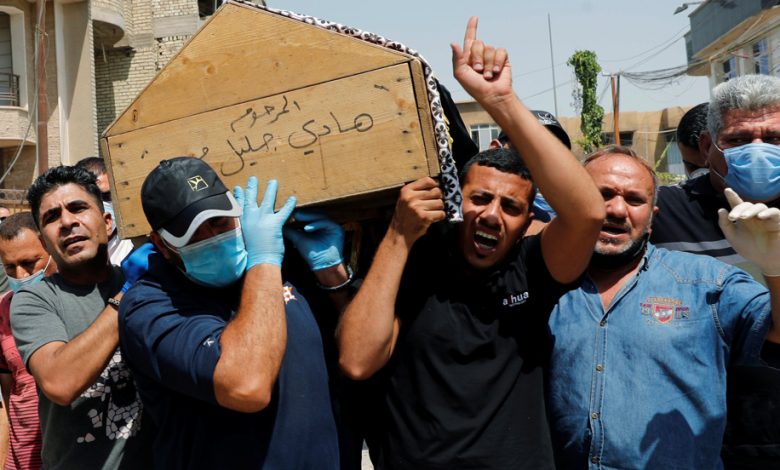 A senior commander of the Iraqi Popular Mobilization Units (PMU), better known by the Arabic word Hashd al-Sha'abi, has condemned the assassination of a prominent Iraqi political and security expert in the capital Baghdad, demanding a thorough investigation into the crime.
"We condemn the assassination of security expert Hisham al-Hashemi, and stress the need for an extensive investigation to identify the perpetrators, bring them to justice and hand out fitting punishment to them," the media office of Qais al-Khazali, leader of Asa'ib Ahl al-Haq, a PMU faction, said in a post published on its Twitter page on Tuesday.
It added, "With a sense of responsibility at the other, we warn everyone against the danger of attempts aimed at turning the capital into the scene of targeted killings and lawlessness."
According to the investigator assigned to his murder, 47-year-old Hashemi walked out of his home in Zayouna neighborhood of east Baghdad on Monday, and was getting into his car when three assailants on two motorcycles opened fire at him.
The renowned security and political expert sustained a number of gunshot wounds and took shelter behind his car, but the gunmen approached and shot him four times in the head at close range.
Hashemi was reportedly transferred to Baghdad's private Ibn al-Nafees Hospital and was pronounced dead shortly thereafter.
A medical source at the hospital confirmed to AFP that Hashemi had suffered "a hail of bullet wounds in several body parts."
Hashemi, who was well-connected with politicians, activists and Hashd al-Sha'abi officials, worked as an advisor to former Prime Minister Haider al-Abadi and informally with the government of incumbent Prime Minister Mustafa al-Kadhimi, according to an unnamed Iraqi government official.
A number of Twitter accounts attributed to Daesh have claimed the members of the Takfiri terrorist group had carried out the assassination.
Hashemi's brother also blamed Daesh militants for the death of his sibling.
Prime Minister Mustafa al-Kadhimi has vowed to bring the killers of Hisham al-Hashemi to justice.
Arab League, Arab Parliament censures Hashemi's assassination
Also on Tuesday, Arab League Secretary General Ahmed Abul Gheit condemned in the strongest terms the killing of the well-known Iraqi figure.
Abul Gheit stated that the regional organization demands the identification of those behind the recent assassinations of political figures in the country, and their trial.
He further emphasized the Arab League's firm support for Iraq in the face of serious challenges that threaten its security, stability as well as sovereignty, and aim to undermine its national unity.
The Arab Parliament condemned Hashemi's assassination in a separate statement as well.