Europe
Several firefighters feared dead in blast at fuel depot in Ukraine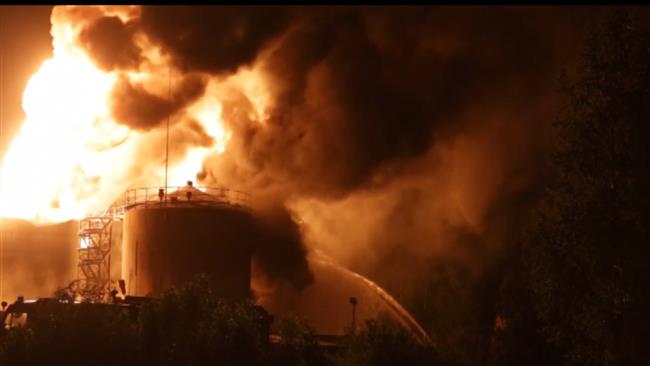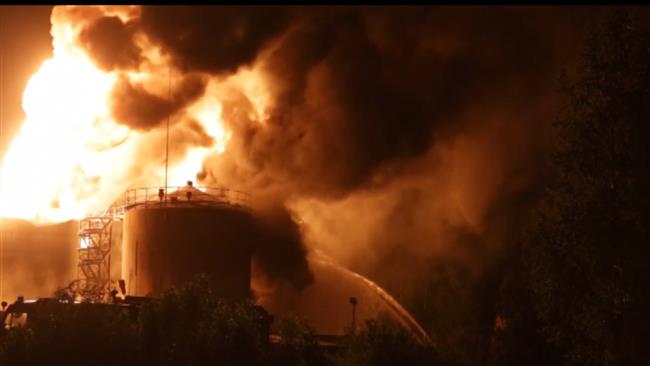 Several fire fighters are feared dead in a blast that ripped through a fuel depot and caused fuel tanks at the storage facility to explode near the Ukrainian capital, Kiev.
Some 17 oil reservoirs caught fire at the BRSM-Nafta facility in the Vasylkiv village about 30 kilometers (20 miles) southwest of Kiev, on Monday night. The incident happened when the firefighters were battling the fire that had broken out at the place earlier in the day.
Footage which later appeared on the Internet showed the force of the explosion and the heat wave it produced, setting fire to several fire trucks and ambulances that had been rushed to the scene earlier in the day.
Six firefighters were injured and taken to hospital, while another six were not accounted for, the Ukrainian Interior Ministry said on Tuesday.
Reports say the fire may have been caused by a failed attempt to seal fuel from a storage tank.
Nearly 62 fire-fighting units with 308 firefighters are trying to extinguish the fire with foam. They are also pouring water on nearby fuel tanks to prevent the further spread of fire.
Also on Tuesday, Ukrainian officials evacuated residents living in the nearby areas of the fire.
"The likelihood of the blasts being repeated exists," the Ukrainian government said in a statement.
According to the statement, people living within two kilometers (1.2 miles) of the location of the initial explosion had been ordered to leave their homes.
"If necessary, we will evacuate people living within 10 kilometers (of the blast site)," the statement noted.