Bahrain
Several Protesters Injured after Bahraini Forces Clash with People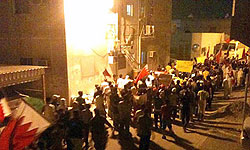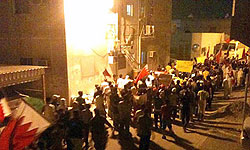 Several Bahraini protesters were injured after Saudi-backed security forces attacked popular protests held throughout the Persian Gulf island against the Manama regime's brutality.
Thousands of protesters held rallies in the capital, Manama, and several towns and villages across Bahrain on Friday to condemn suppression of people by the Al Khalifa regime and the recent killing of two young Bahraini protesters by the security forces.
On Friday, Bahraini forces adopted strict security measures to confront protesters, and shot and injured a number of them after clashes erupted between security forces and people in 40 different areas.
Protesters called for the punishment of those involved in the killing of the two young protesters.
Mohammed Mushaima, a 23-year old activist, who was serving a seven-year sentence for taking part in Anti- regime protests, died in custody last Tuesday.
Bahraini security forces had also killed a 17-year-old protester, Ali Neamah, in the village of Sadad last Friday.
The Bahrain Center for Human Rights decried the incident as an example of "summary executions". In a statement, the center said that Ali Neamah was taking part in a peaceful protest, and that he was killed by a "deadly shot of a shotgun by the riot police from a close range."
Anti-government protesters have been holding peaceful demonstrations across Bahrain since mid-February 2011, calling for an end to the Al Khalifa dynasty's over-40-year rule, end of discrimination, establishment of justice and a democratically-elected government as well as freedom of detained protesters.
Violence against the defenseless people escalated after a Saudi-led conglomerate of police, security and military forces from the Persian Gulf Cooperation Council (PGCC) member states – Saudi Arabia, Kuwait, the United Arab Emirates, Oman and Qatar – were dispatched to the tiny Persian Gulf kingdom on March 13, 2011, to help Manama crack down on peaceful protestors.
So far, tens of people have been killed, hundreds have gone missing and thousands of others have been injured.