Iran
Shamkhani: Outcome of nuclear talks is big test for new ties with EU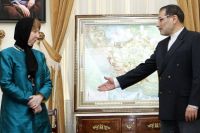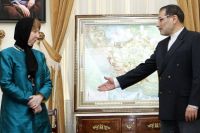 Shamkhani told the EU foreign policy Chief Catherine Ashton that the outcome of nuclear talks marks a big test to found new relations with the European Union.
He said Ashton's visit to Iran provides a proper opportunity for her to get an understanding of realities and state of affairs in the Iranian community.
Secretary of Supreme National Security Council added that dialogue on the basis of logic, mutual respect and mutual interests, have formed the principles of Iran and Iran is ready for constructive cooperation and engagement with the world nations.
He criticized certain extremist figures, who consider their interests would be guaranteed in instability of international environment, for their unconstructive statements and said that the vast and very diversified ground are available for cooperation between Iran and the EU.
Voicing concern about the humanitarian crisis in Syria and the need for all-out efforts to put an end to human catastrophe in the country, Shamkhani said unconstructive intervention of certain countries in Syria and instrumental use of terrorism have escalated human plight and resulted in spread of uncontrolled violence in the region.
Ashton in turn referred to growing visits of the European officials to Iran over the past few months, and said that mending the damaged relations between Iran and the EU is the priority of the EU member states.
She said dialogue and cooperation to reach comprehensive agreement will be possible only when rights and duties of the partners are carefully guaranteed.
She voiced pleasure with her Iran visit and said that she held constructive talks with Iranian officials and that the prospects for future cooperation are bright and promising.
She noted that safeguarding outcome of talks and mutual agreement and continued dialogue and understanding will be possible in light of self-confidence and unsparing efforts of the two parties.