Lebanon
Middle East
Sheikh Naim Qassem: March 14 Boycotts Dialogue to Disrupt New Electoral Law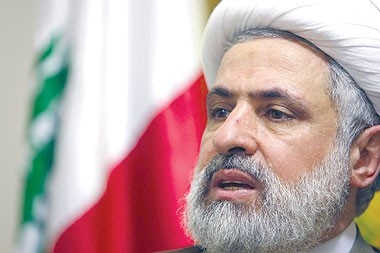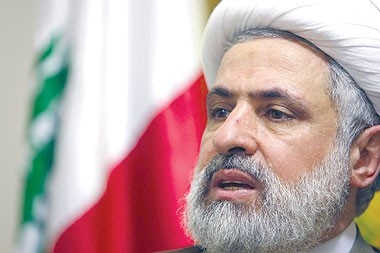 Deputy Secretary General of Hezbollah, Sheikh Naim Qassem, said Friday that political hysteria exercised by a certain party in Lebanon to sabotage the state and its institutions since the naming of Najib Mikati as Prime Minister is caused by this party's exit out of power.
Receiving the president of Independent Nasserite Movement – Almorbitoon -Brigadier General Mustafa Hamdan, Sheikh Qassem stressed that those who show themselves as advocates of building a state – led by former PM Saad Hariri – only support the state which they seize its resources and capabilities.
"However, they disrupt it if they didn't grab its reins," he added.
Sheikh Qassem noted that opposition factions in Lebanon might have had a long experience in managing the country; "the management which accumulated political, economic and social crises that Lebanon suffers today under the current government, and dragged foreign custody which made Lebanon stuck in a regional impasse, along with an indebtedness exceeding $60 billion which burdens the future generations."
On the Hezbollah call for holding a national dialogue table, Sheikh Qassem said: "At minimum, our call for dialogue is to achieve communication to look for solutions. At maximum, it is to accomplish all the complicated files."
"However, their (March 14) rejection of dialogue confirms the exclusivity and isolation they desire which cause damage to all of Lebanon," he stressed.
Moreover, he expressed beliefs that the first goal of boycotting dialogue is to disrupt the completion of a new electoral law, and all other pretexts are flimsy, especially after Speaker Nabih Berri provided all facilities to launch a dialogue about the law.
Addressing 14 March parties, Sheikh Qassem said: "Do not bet on the developments in Syria. The crisis will drag on. You cannot invest its results. You should rely upon your people, your presence and your cooperation with the different Lebanese parties to build the state."
"The choice is yours. Yur voters will ask you what you've done to their sons and to the future of their country," deputy Secretary General of Hezbollah concluded.