Lebanon
Sheikh Qasim: Takfiris seek to destroy all of Lebanon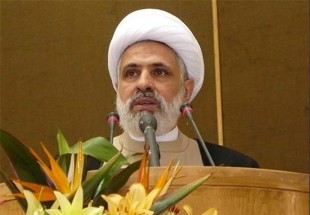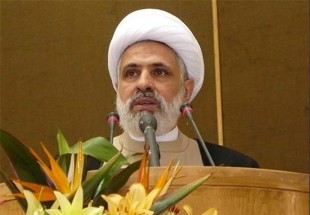 In a meeting with officials of various husayniyahs throughout Lebanon in the southern town of Hanouiyeh, Hujjat al-Islam Na'im Qasim, the Deputy Secretary-General of Hezbollah, stressed upon the necessity of increasing efforts to motivate institutes and government agencies and added that the departure of the parliament and the Council of Ministers and other government agencies helped prevent a greater disaster.
"We want to unite the country and we support dialogue because it will help maintain the unity of Lebanon and will bring about future achievements," he said.
The Lebanese Shi'a cleric warned of the danger of the Takfiri phenomenon and added that Takfiris seek to destroy Lebanon, irrespective of ethnicity, sect, religion and region and the discovery of various Takfiri networks shows that they have plans for all regions of the country.
"These groups only think about destruction and creating chaos in Lebanon and we must not assume that they are targeting a certain group," he said.
Hezbollah protects Lebanon from terrorist threats
Hujjat al-Islam Qasim welcomed the killing of Nayif al-Sha'lan, a local Daesh leader in Lebanon, and stated that the country's military, intelligence agencies and security forces have managed to capture valuable targets and neutralize many terrorist operations, saying, "Of course, we should not think that the danger is over, but the Takfiris are trying to destroy Lebanon through various ways."
He said that Hezbollah has made efforts to liberate various regions of Lebanon from Takfiri terrorists, especially along the eastern border in the Beqaa region. "The Islamic Resistance has also protected other regions from the threat of terrorism," he added.
Alliance of evil seeks the collapse of the region
The senior Hezbollah official noted that the equation of the Lebanese army, people and the Islamic Resistance are the supporters of the Lebanon against the Takfiri phenomenon and added that Takfiri forces are collaborating with Zionists in the Golan Heights and in Qunaytrah and this has been proven for everyone.
"These groups are seeking to establish a security belt for the Zionist regime," he added.
In conclusion, Hujjat al-Islam Qasim said, "We need to be very aware of the alliance of evil in the region – the United States, Israel, Saudi Arabia and the Takfiri phenomenon – because they seek the collapse of the region and to achieve their objectives."