Palestine
Sheikh Sabri urges Muslims to save Palestinian cause from US solutions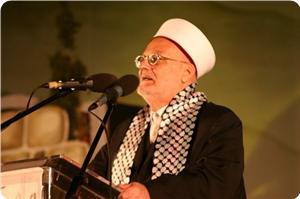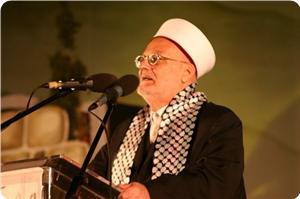 Preacher of the Aqsa Mosque Sheikh Ikrima Sabri called on the Muslim Nation to move swiftly to save the Palestinian cause from the US solutions that are aimed to liquidate it.
In his Friday khutba (sermon), Sheikh Sabri demanded the Palestinian Authority to reconsider its positions and not to succumb to pressures.
He asked the PA not to forget that the Palestinian cause is a very sensitive issue related to a holy land that belongs to more than one billion Muslims and constitutes an important part of their faith, heritage, culture and history.
The preacher warned that the Palestinian city of Jerusalem is exposed nowadays to a US-made conspiracy known as Kerry's plan which wants to retain the settlements under Israel's control, including 29 settlement blocs and outposts located in and around the holy city.
According to this plan, he added, the Israeli occupation would stay in control of more than 50 percent of east Jerusalem and keep the western part of the city under its exclusive sovereignty.
Israel's segregation wall would serve like the boundary line between the Palestinians and Israelis, while the Old City of Jerusalem and the neighborhoods around the city would be under the supervision of an international commission whose members include the US and the Israeli occupation state, he elaborated further about Kerry's plan.
He also questioned about the fate of the Aqsa Mosque, which is exposed to daily violations by Jewish settlers and the Israeli police, if the Israeli occupation controlled everything in the holy city.
"The Aqsa Mosque is in danger, and Jerusalem is the first victim after it has become vulnerable to loss according to the plan of the US secretary of state. Enough is enough and there is no more room for silence," Sheikh Sabri underlined.