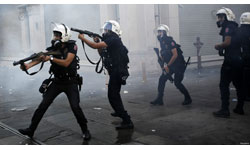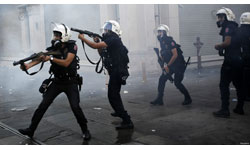 At least six mortar shells fired from Syria have reportedly landed in two border towns in Lebanon's northern region of Akkar.
Citing security sources, the Lebanese newspaper The Daily Star reported that the shells hit the towns of al-Dababiyeh and al-Noura on Saturday, causing "panic among residents."
"Lebanese soldiers helped residents evacuate to a safer location once the shelling began in the early hours of Saturday," the report added.
There have been no reports of casualties.
No group has yet claimed responsibility for the shelling, but foreign-backed militants in Syria have been blamed for the rocket attacks on Lebanese border areas.
President Michel Sleiman has sent letters to both the United Nations and Arab League to protest the violations to Lebanese territory caused by the fighting in Syria.
On June 19, Lebanese security sources said that two rockets fired from Syrian territories have hit a Hezbollah stronghold in eastern Lebanon's Bekaa Valley.
On June 12, Takfiri militants in Syria also fired a number of rockets at the Lebanese border towns and villages of Bekaa Valley.
Last month, a girl lost her life and a women sustained injuries after three mortar rounds fired by militants in Syria struck near the eastern town of Hermel in Bekaa.
Syria has been gripped by turmoil since March 2011 and the foreign-sponsored militancy has taken its toll on the lives of many people, including large numbers of Syrian soldiers and security personnel.
Damascus says the West and its regional allies, such as Qatar, Saudi Arabia, and Turkey, are supporting the militants.