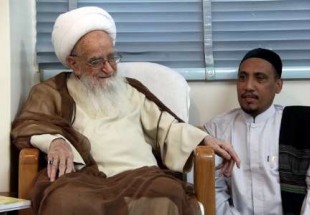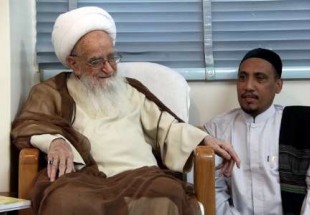 "Shia Sunni should pursue honor of Islam." Cleric
Grand Ayatollah Lotfollah Safi Golpaygani, senior Iranian scholar, urged Shia and Sunni Muslims to ascend the name of Islam and unanimously stand against hostile moves which have undermined the popularity of Islam, reported Taqrib News Agency (TNA).
The cleric admitting a group of Sunni scholars from India and Indonesia stressed," We demand the transcendence of Islam and be it Shia or Sunni Muslims; we should stand up for our demand."
"We are honored to be a member of the nation launched by Prophet Mohammad (PBUH) and believe in God Almighty and follow the lifestyle of Ahlul Bayt (AS), household of the prophet of Islam." noted the religious figure.
He called for a unified stance of Muslims from all nationalities against ISIL and slammed the terrorist group for harassing and hindering the religion supporting the oppressed and the poor.
The cleric quoted verse 103 of sura Al Imran from holy Qur'an on necessity of Islamic unity and called Muslims to stand against those who are in pursuit of hatching intrigues and disperse Muslims.