North America
Shooting, stabbings as Trump supporters, opponents clash across US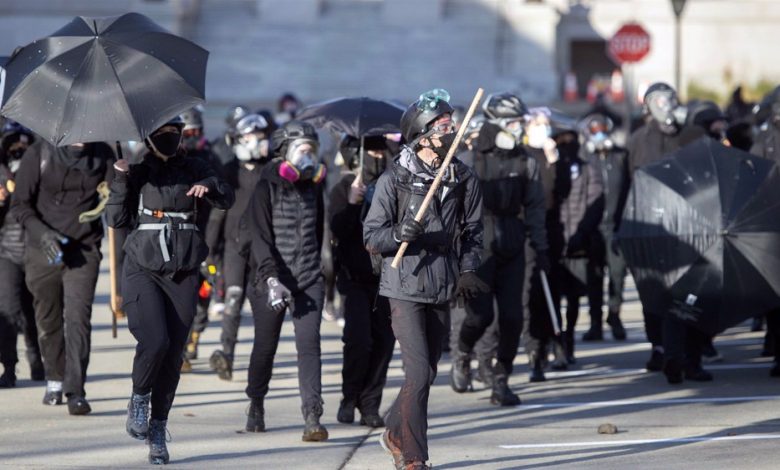 Pro-Donald Trump demonstrators have clashed with counterprotesters in some US cities with one person being shot in Olympia, Washington and 23 people being arrested in Washington, D.C.
On Saturday night, pro-Trump "Proud Boys" protesters and "Antifa" counterprotesters brawled in downtown Washington, with police officers using pepper spray to disperse them.
Earlier in the day, nearly 200 members of the Proud Boys – a violent far-right group – had joined the marches near the Trump hotel, with many of them wearing combat fatigues, black and yellow shirts and ballistic vests and carrying helmets and flashing hand signals white nationalists often use.
In the state capital, protesters included Trump supporters, Black Lives Matter activists and people opposed to restrictions imposed due to the coronavirus pandemic.
Proud Boys protesters shouted insults at Antifa demonstrators and burned Black Lives Matters flags.
A gun was fired by a Proud Boy demonstrator, striking a counterprotester, but Olympia police secured the area.
Both groups are now in front of the Capitol, with one person from the Trump supporters and Proud Boys group trying to throw down in a fight with one particular counter protestor. WSP stands by, forming a line between groups and the legislative building. #OlympiaProtest pic.twitter.com/mV8LEp92yK— Shauna Sowersby (@Shauna_Sowersby) December 12, 2020
"Both sides have heavily armed individuals in the groups," said Washington State Patrol Sgt. Darren Wright. "We've had sporadic confrontations throughout the day."
Meanwhile, "March For Trump" protesters clashed with counterdemonstrators in the nation's capital, with pro-Trump marchers chanting, "Four more years" and, "We want Trump."
Four people were stabbed there and at least eight people were taken to hospital.
Demonstrations were also held in other communities around the country, including Atlanta, Georgia, another state where the Trump campaign had tried to overturn his Democratic Joe Biden's election victory, as well as Mobile, Alabama.
Over 50 federal and state court rulings have upheld the former vice president's victory in the disputed November 3 presidential election.
On Friday, the US Supreme Court rejected a lawsuit filed by Texas and supported by Trump seeking to annul voting results in four states.