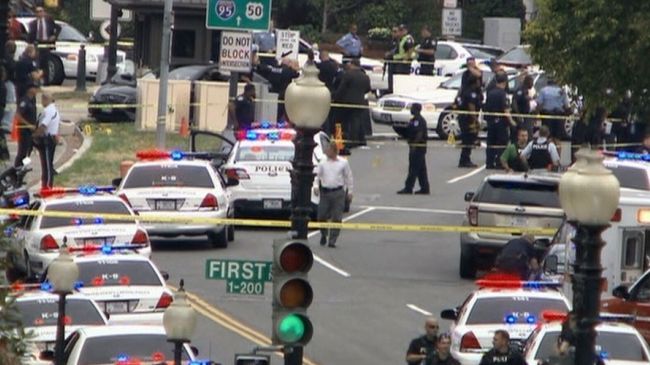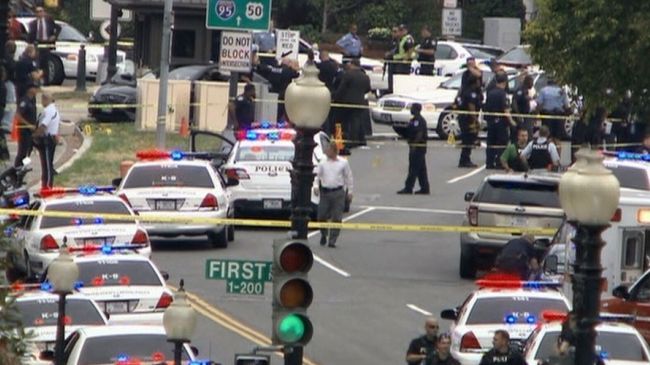 Multiple shots have been fired outside Capitol Hill in Washington, D.C., as the building remained on security lockdown for almost an hour and police swarmed the US Capitol and surrounding areas.
"There's a report of gunfire on Capitol Hill. If you are in an office building, shelter in place," an audio message broadcast to Capitol offices said Thursday afternoon, also warning those on the grounds outside to seek cover, The Washington Times reported.
Reports by Associated Press say a Capitol Police officer was injured during the shootings.
Staffers were told by a notice broadcast on the interval television system to "close, lock and stay away from external doors and windows."
Minutes after the gunshots were fired, Capitol Police barricaded off Constitution Avenue.
The House went into recess just at the time of the alert and is now in a "quorum call", which means halted business.
Rep. Gerald Connolly and Matthew Cartwight were on House balcony at the time of the shootings. They rushed inside as the Capitol Police waved them a signal to go inside.
"We were like what is that," Connolly said. " I thought fireworks."
The US Capitol issued the following statement:
SHELTER IN PLACE. Gunshots have been reported on Capitol Hill requiring staff in all Senate Office Buildings to immediately shelter in place. Close, lock and stay away from external doors and windows. Take annunciators, emergency supply kits and escape hoods; and move to your office's assigned shelter in place location or the innermost part of the office away from external doors or windows. If you are not near your office, go to the office nearest to you and shelter with that office and then check in with your OEC. No one will be permitted to enter or exit the building until directed by USCP. Staff is advised to monitor the situation. Further information will be provided as it becomes available.
According to The Washington Post, a suspect has been taken into custody.