Lebanon
Signs of normalcy returning to Lebanon as army clears protester roadblocks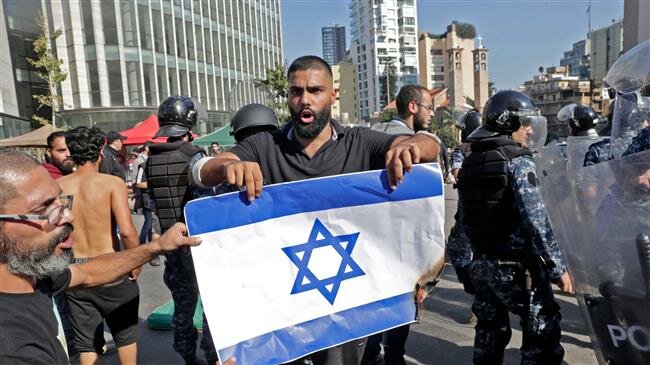 Lebanese soldiers and riot police have reopened a major highway north of Beirut and a bridge in the capital that had been closed since the beginning of anti-government protests two weeks ago.
In a bid to restore a semblance of normality on Thursday, troops removed dumpsters, cars and tents blocking a highway linking the capital to the north of Lebanon.
It came after the law enforcement forces fired tear gas and clashed with protesters blocking a road overnight in the Akkar region.
Also on Wednesday, Lebanese troops managed to clear the Jal al-Dib highway north of Beirut after briefly scuffling with demonstrators.
Lebanon's army command, earlier in a statement, acknowledged the Lebanese people's right to "peaceful demonstration and expression of opinion in public squares only."
The education minister called on schools and universities to reopen their doors in the capital, as well as parts of the north and south of the country.
The country's banking association said in a statement that banks were due to resume normal operations and receive customers on Friday.
"Thursday will be dedicated to internal work to complete (a backlog) of operations and to prepare to receive customers starting Friday morning," the statement read.
Two weeks of massive demonstrations against the ruling elite largely subsided after Prime Minister Saad al-Hariri resigned on Tuesday.
President Michel Aoun has formally asked the cabinet to continue in a caretaker role until a new one is formed.
The protests began on October 17 when the government proposed imposing a tax on Whatsapp calls, along with other austerity measures.
The protests have compounded Lebanon's already serious economic woes.
Hezbollah: Hariri resignation a waste of time
on Thursday, Lebanese Hezbollah resistance movement's parliamentary bloc said Hariri's resignation as prime minister had wasted time needed to enact reforms.
In a televised statement read by one of its MPs, the Hezbollah parliamentary bloc called on President Aoun to begin consultations with lawmakers to start the process of forming a new government.
Sources familiar with Hariri's thinking said he was ready to return as premier of a new Lebanese government on condition it includes technocrats and can quickly implement reforms to stave off economic collapse.
In remarks published Wednesday by local daily Al Joumhouria, Parliament Speaker Nabih Berri said he had tried to dissuade Hariri from quitting.