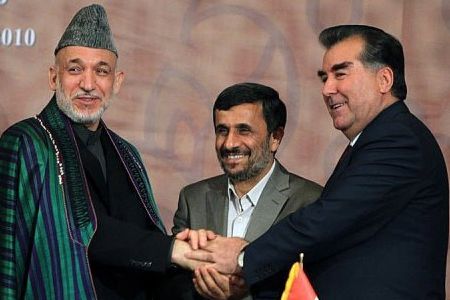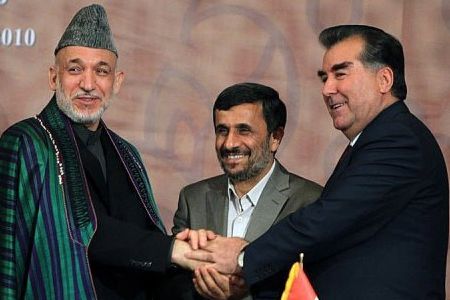 The Iranian Foreign Minister Manouchehr Mottaki says the three Persian-speaking countries in the region are to revive the Silk Road via linking their railroads.
"The project links the railroads of Tajikistan to Iran via Afghanistan. Thus the Silk Road will be revived as China is to link its railroad to Tajikistan through Kazakhstan," he said during an interview with Iranian TV on Thursday.
Mottaki said the project was mentioned in the statement of the tripartite summit of Persian-speaking heads of states in Tehran, adding that the transport ministers of the countries in the region are to study the project during a meeting in Dushanbe in October 2010.
The one-day tripartite summit of Persian-speaking heads of states kicked off in Tehran on Thursday with the participation of the presidents of Iran, Afghanistan, and Tajikistan.
At the end of the summit, Afghan President Hamid Karzai and Tajik President Emomali Rahmon signed a declaration with their Iranian counterpart on different political, cultural, economic and anti-terrorism issues.
Iran has embarked on a series of projects to revive the Silk Road.
The projects continue irrespective of Iran's exclusion from Western-backed plans to restore the Silk Road, the 6,000-kilometer-long trading route between Europe and Asia that is thought to date back almost 3,000 years.
Iran has not signed on to Western-backed initiatives, such as the European Union-supported Transport Corridor of Europe, Caucasus, and Asia (TRACECA) project, also known as the "new Silk Road."
Instead, it has been fostering improved transport links through a series of bilateral agreements with neighboring states.
"We intend to establish a path from Hormozgan in the south of Iran to Ghazvin, Rasht, Astara, and then onto Russia and Europe," Iranian Vice President Mohammad Reza Rahimi said in July, announcing a new working group for Silk Road initiatives.
"For the time being, we are working on the Ghazvin-Rasht section and the Roads Ministry has promised to complete this in one year."
The aim, Rahimi said, is to dramatically increase the capacity of Iran's roads to transport goods and reduce maximum transit times between Europe and China from two months by sea to 11 days by land.