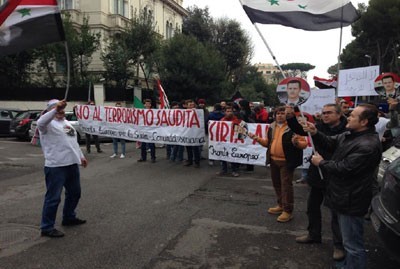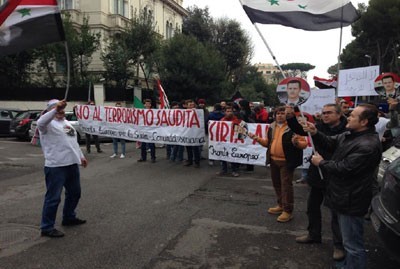 Italy branch of the National Union of Syrian Students and the Syrian community staged a sit-in outside the Saudi Embassy in Rome protesting AL Saud regime's support for terrorism in Syria.
The participants, who included representatives of the Syrian-Italian Committee and the European Front for Syria's Support, expressed strong condemnation of the continued support provided by the Saudi regime to the terrorist and takfiri thinking in the Arab world.
They highlighted the large scale of destruction and killing caused by the takfiri terrorist groups in Syria due to this Saudi support.
The participants voiced confidence that the Syrian people, thanks to their steadfastness and their rallying around the leadership and army, are able to defeat and uproot terrorism which is threatening the entire region and world.
Hands Off Syria initiative demands immediate lifting of sanctions on Syria
On a relevant note, members of Syrian, Arab and other communities in Austria organized a sit-in in front of the European Commission in Vienna, demanding in a statement issued by the "Hands Off Syria" initiative that the war on Syria be halted.
The initiative called for ceasing all forms of barbaric aggression carried out by terrorist organizations funded by Saudi Arabia and Qatar, warning that the continuing support for terrorists in Syria threatens peace in it and the stability of the Middle East and the whole world.
The initiative also delivered a letter to High Representative of the European Union for Foreign Affairs and Security Policy Catherine Ashton, in which it requested that all EU member countries lift all forms of embargo and sanctions imposed on the Syrian people.
Jordanian forces protest Saudi support for terrorists in Syria
Jordanian forces organized a sit-in in front of the Saudi embassy in Amman to protest the Saudi support, funding, training and arming for terrorist groups in Syria.
The participants, carrying Syrian, Jordanian and Palestinian flags and placards denouncing Al Saud's policies, denounced the hijacking of Yarmouk Camp by the Saudi-backed terrorists who took its people hostages and use them as human shields, depriving them of food and medicine.