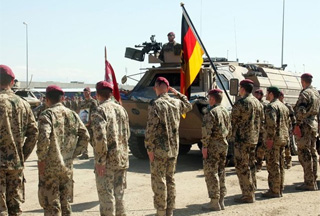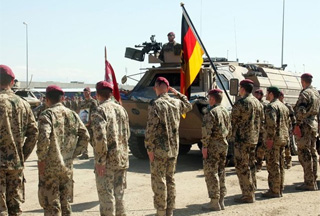 Two separate bomb blasts have wounded at least six German troops in northern Afghanistan amid escalating violence in the war-ravaged country.
Three soldiers were injured when an improvised explosive device in Konduz Province struck their armored military vehicle on Sunday morning, a Press TV correspondent reported.
Hours later, three more German soldiers sustained injuries in the second blast that occurred in the same volatile region.
A German military spokesman in Konduz has confirmed the incidents. Taliban spokesman Zabiullah Mujahid took responsibility for the attacks.
Some 272 foreign troops have been killed in Afghanistan so far this year. Last week was the bloodiest for the foreign forces with at least 30 troop fatalities.
Germany has about 5,000 soldiers in the relatively peaceful northern Afghanistan, making it the third-largest foreign contingent after the US and the UK.
US President Barack Obama wants Germany to add thousands of more troops and increase its geographical span to include the volatile south and east.
The US and its NATO allies have announced the imminent deployment of 30,000 more troops to Afghanistan in a bid to end nearly a decade-long conflict there.
The militants have increased their attacks on the NATO forces in retaliation to the alliance's plans to launch an attack against the Taliban in Kandahar.
The rising number of casualties has increased opposition to the Afghan war in the member states of the western military alliance.
The 2001 US-led invasion was launched with the objective of brining peace and stability to Afghanistan. Nine years on, however, Taliban militancy has reached new heights and civilians continue to pay the price.