Africa
Six killed as tensions mount between foreign-backed Sudan military rulers, protesters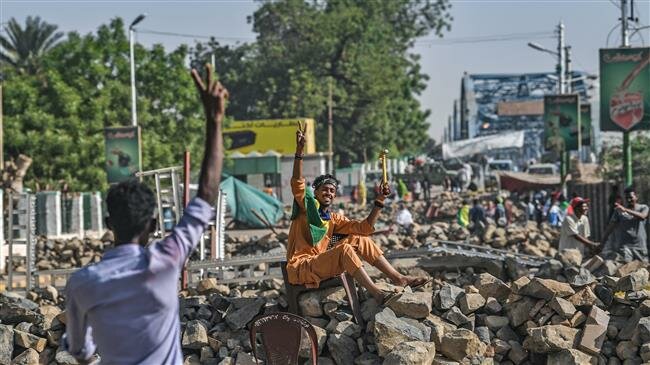 At least six Sudanese security personnel have been killed and several others injured in a series of violent clashes with protesters, as tensions mounted over the makeup of a new joint civilian-military council.
Mohamed Hamdan Dagalo, the Transitional Military Council (TMC)'s vice president said in a press briefing on Tuesday that the clashes took place after demonstrators reinforced barricades outside the army headquarters in the capital Khartoum over the past 24 hours.
"In different incidents, six people from the security forces were killed and 16 wounded," said Dagalo, adding, "There were incidents of burning of markets and looting."
Dagalo also warned that the army will not accept unrest in the country.
"We will not accept chaos. We will deal with it firmly in accordance with the law," he stated, noting, "We do not want to escalate the situation. We are committed to negotiation. After today, there will be no chaotic scenes."
Meanwhile, the Alliance for Freedom and Change, Sudan's leading protest group in a statement on Tuesday called for a "million-strong march" to demand a civilian administration.
"We are calling for a million-strong march on May 2 to assert our main demand, which is for civilian rule," the statement read.
On Monday, Sudan's main protest group said the military was trying to remove barricades at the sit-in outside the army headquarters.
"The military council is a copy cat of the toppled regime. The army is trying to disperse the sit-in by removing the barricades," said the Sudanese Professionals Association (SPA), the group that first launched a movement against the government of Omar al-Bashir.
"We are calling on our people to come immediately to the sit-in area. We are calling on the revolutionaries to protect the barricades and rebuild them."
Risking the anger of protesters, a top Sudanese general announced Tuesday that the new body would be headed by current military ruler General Abdel Fattah al-Burhan.
This comes as the military and the opposition remains divided over the composition of a joint civilian-military council.
The military had earlier agreed to allow civilians into the transitional administrative body. It also accepted the resignation of three of its members who were accused by the opposition of being involved in a recent crackdown that left dozens of protesters dead.
The joint council is supposed to replace the military body that took power after Bashir's ouster in the face of mass protests against his three-decade rule.
But the two sides are at odds over its composition, with the military pushing for a 10-member council including seven military representatives and three civilians.
The protesters want a majority of civilians on a 15-member joint council with seven military representatives.
Thousands of protesters have been camping outside the army headquarters in Khartoum, almost three weeks after the military and security forces removed Omar al-Bashir from power on April 11.