Latin America
Six killed during clashes between Mexico teachers, police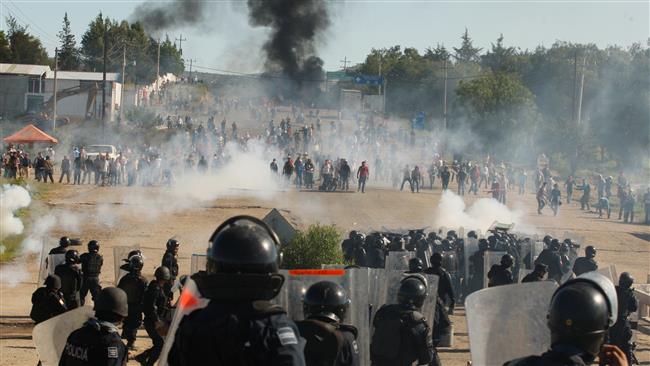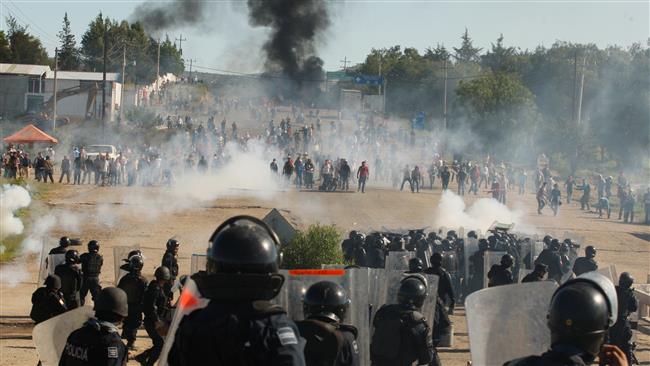 At least six people have been killed in southern Mexico in clashes between police forces and teachers protesting planned education reforms and the arrest of their union leaders.
Thousands of teachers from the CNTE teachers' union took to the streets in several municipalities in the southern state of Oaxaca on Sunday.
The demonstrators protested government-proposed education reforms, which would require them to undergo mandatory evaluation testing. They also voiced anger at the recent arrest of two union leaders on several charges, including money laundering, which the teachers believe are trumped up.
Clashes erupted when anti-riot police tried to disperse the protesters, who had been blockading roads.
Oaxaca State Governor Gabino Cue said six people were killed and 53 were injured in the violence, adding that most of them were young people.
There are conflicting accounts of how the victims were killed, or who exactly they were.
Cue said that only two of those killed had "links to the [teachers'] union."
Isabel Garcia, a member of the political commission of the CNTE, said three people backing the teachers were killed, without giving further details.
A state official, who spoke on the condition anonymity, said a state police officer was also killed.
Enrique Galindo, the head of Mexico's federal police, blamed "masked armed infiltrators" for much of the violence. He said the individuals, who he said were not affiliated to the CNTE, threw Molotov cocktails and fired at police and civilians.
But, Associated Press (AP) reporters said they saw riot police firing on protesters in Oaxaca's Nochixtlan, where officials said the demonstrations were strongest.
AP footage showed at least one police officer firing a gun toward demonstrators several times. It was not clear if the officer was a federal or state agent.
Mexico's federal government said in a statement on Sunday evening that 21 federal agents had been injured, three of them by gunfire. It, however, made no reference to the number of civilians killed.
The government said the federal police were not wielding guns.
Violence also erupted in the municipality of San Pablo Huitzo, north of the state capital, as well as outside the city of Oaxaca itself, where federal police installations were set ablaze by the demonstrators.
President Enrique Pena Nieto unveiled his education reform plans in 2013 as part of a set of 11 neo-liberal structural reforms implemented in his first 20 months in office. Since then, teachers have been engaged in protest rallies, mostly in Mexico's southeast states.
The controversial plan imposes evaluation exams as a key measure to determine which applicants are qualified to fill open positions in the public school system nationwide.
Additionally, the Education Ministry has vowed to dismiss educators that refuse to take the examinations. The reform plan further intends to eliminate the power that unions have held over hiring decisions and end the reported practice in which teaching positions were either inherited or sold.
Critics, however, say the evaluation measure is merely aimed at justifying mass layoffs and does not effectively assess teaching skills, such as the special knowledge and demeanor needed to teach in rural areas and indigenous communities.