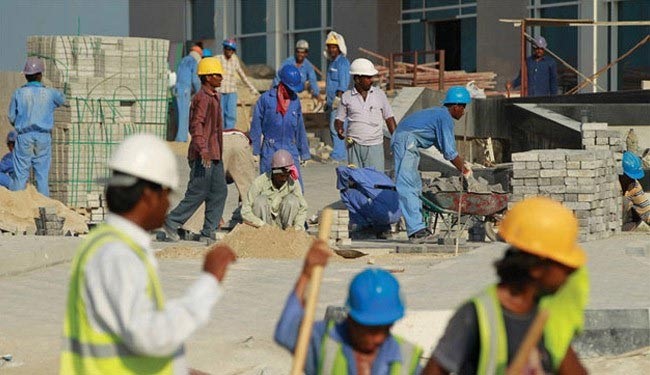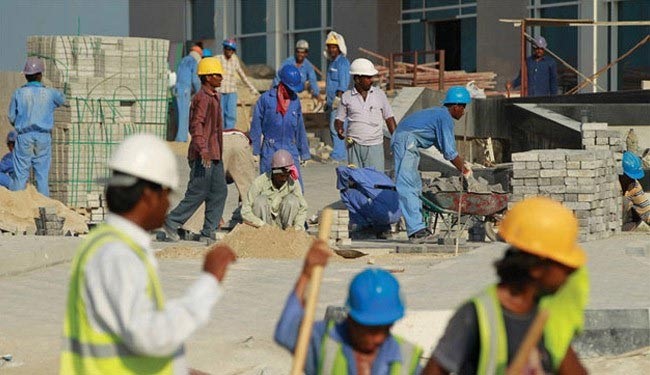 Amid new revelations that scores of foreign construction workers have died last summer in Qatar under conditions described as slave labor, chief of world football federation FIFA has finally expressed concerns over the issue, vowing to discuss it with Qatar's new emir.
Under mounting pressure to react to a recent report by the British Guardian newspaper that dozens of Nepalese workers have died in Qatar over the summer under conditions it described as "modern-day slavery," FIFA President Sepp Blatter has said world football cannot "turn a blind eye" to the deaths of hundreds of construction workers in the Persian Gulf kingdom as it prepares to host the 2022 World Cup.
According to a Friday report by the British daily, however, Blatter's claim that FIFA had no direct influence over the situation and that there was plenty of time to resolve the issue angered those campaigning for a change in Qatar's labor situation on the ground.
The International Trade Union Confederation (ITUC) said: "FIFA's offer of only a 'courtesy visit' to the emir of Qatar is totally inadequate and fails to put in place any plan to stop more workers dying."
The ITUC has warned that 4,000 construction workers could die before a ball is kicked if conditions do not improve for the laborers working on infrastructure projects worth nearly $200 billion before the 2022 competition.
In a letter to FIFA released to the media, the 2022 organizing committee chief executive, Hassan al-Thawadi, said it considered the "findings presented by the Guardian newspaper to be of the utmost seriousness".
It said, "Our prime minister has personally stated to us his firm and resolute commitment towards ensuring that genuine progress is made in the sphere of workers' welfare.
"The health, safety, wellbeing and dignity of every worker that contributes to staging the 2022 World Cup is of the utmost importance to our committee – and the state of Qatar – and we are steadfastly committed to ensuring that the event acts as a true catalyst towards creating sustainable improvement for every worker in our country."
Blatter refused to threaten the Qataris with the loss of the tournament if the death toll was not reduced in the run-up to the World Cup. Instead, he reassured organizers that the tournament would take place come what may.
"You are looking to the future and I can't look to the future. I am going to Qatar now and we will put the situation of Qatar with the situation we are facing with their responsibility," he said. "We have plenty of time concerning Qatar but it is 2022, it is in nine years."
Nicholas McGeehan, Gulf researcher at Human Rights Watch, which has reported on labor abuses in Doha, said FIFA appeared to be saying the rights of workers building Qatar's 2022 World Cup were somebody else's problem.
"Blatter's assertion that there is 'plenty of time' to resolve the issues suggest he is either ignorant of or indifferent to the appalling abuses happening right now in Qatar," he said.
On Wednesday Qatar's ministry of labor said it had hired the international law firm DLA Piper to undertake an independent review of allegations it had failed to enforce international conventions on forced labor.
Blatter further claimed that FIFA could not control safety on building sites but admitted that growing international pressure had forced world football's governing body to acknowledge the problem.
"What has happened now, we are not indifferent to that. We can't turn a blind eye and say this does not concern us," he said.
"That is why a trip to Qatar is planned. You can plainly see what Qatar has already done. We have 209 associations; in 209 associations you have different social and cultural associations. We can only do something when we see, when we hear and when we know ourselves – it has been confirmed by the Qataris themselves that something is amiss." Blatter emphasized.
Meanwhile, Ramesh Badel, a lawyer in Kathmandu who represents Nepalese workers in Qatar, including those who have lost hands and legs in construction accidents, said Blatter was dodging Fifa's duties. At least 70 Nepalese workers have died on Qatar's building sites since the start of 2012.
"FIFA should take responsibility to restore the rights of the workers themselves," he said. "All this construction is happening because of their World Cup. If there is slavery, how can they just keep quiet?"
Moreover, Mahendra Pandey, chairman of the Parvasi Nepali Co-ordination Committee in Kathmandu, which this week received reports of 13 more injured workers in Qatar, said Blatter's failure to set demands for basic labor standards it expected from World Cup hosts showed FIFA was not treating the problem seriously.
"Blatter would be better off visiting a migrant laborer camp when he goes to Qatar than going to see the emir," he said.