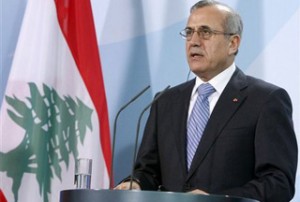 Lebanese President Michel Sleiman will not attend an Arab League summit in Tripoli due to a row over the disappearance of prominent Shia cleric Mussa al-Sadr in Libya in 1978.
"President Michel Sleiman will not take part in the summit in Libya based on a request by speaker of parliament Nabih Berri," AFP quoted a senior government official as speaking on condition of anonymity.
Imam Mussa al-Sadr, the founder of the Amal movement, went missing with two of his companions, Mohammed Yaqoub and Abbas Badreddin, while on an official visit to Libya in August 1978.
Sadr, who was scheduled to meet with officials from the government of the Libyan leader Muammar Gaddafi, is widely believed in Lebanon to have been kidnapped and killed on the orders of senior officials in Tripoli.
In 2008, Lebanon issued an arrest warrant for Gaddafi over the disappearance of the revered spiritual leader. But Gaddafi has so far managed to ignore Lebanese calls for more information on the case, never officially visiting Lebanon since 1978.
Several Lebanese politicians including Berri — who leads Sadr's Amal party — had called for Lebanon in February to boycott the Libya summit scheduled for March 27-28.
During an interview in February, Sleiman said Beirut wishes to strengthen its ties with Tripoli but is also "determined to learn the fate" of Sadr and his companions.
The Higher Shia Council also called Lebanon's probable participation in the 22 member strong summit a "catastrophe," saying Beirut's only condition for participating in the summit was that Sadr's case be discussed publicly in the opening session and before the media.
Libya denies any involvement in Sadr's disappearance, saying the trio left the country for Italy.
Italy has always denied the cleric ever arrived there; however, in 2004 Italian authorities returned a passport found in Italy belonging to the imam.