Iran
Iraq
Middle East
North America
Qasem Suleimani
Soleimani opposed US hegemony over oil in Iraq: Expert
An Iranian international energy expert says the United Sates killed a senior Iranian commander in Iraq because he had constantly opposed Washington's plans for controlling oil wells in the country and in the wider region.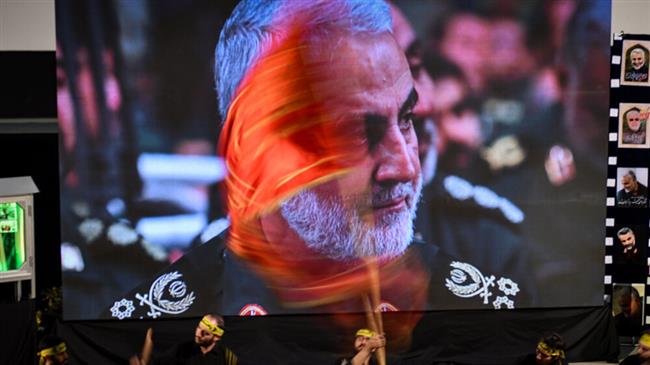 Mahmoud Khaghani told Iran's ILNA news agency on Saturday that the assassination of Lieutenant General Qassem Soleimani, the commander of Iran's elite Quds force, in US strike in Iraq on Friday was not only because of his unique military capabilities which had posed numerous threats to the US.
Khaghani said the assassination also came because Soleimani had opposed plans by the US and its regional proxy Saudi Arabia to fully control oil production in Iraq.
"General Soleimani's efforts for dismantling US and Saudi objectives in Iraq had seriously worried these two countries," said Khaghani, adding that US President Donald Trump has repeatedly asserted over the past years that he wants a full domination over the global energy market.
He added that Soleimani had always sought to help the regional countries, especially Iraq, Syria and Lebanon, free themselves from the hegemony of the US and other powers.
Assassination of Soleimani not to serve US interests: Susan RiceFormer US national security adviser Susan Rice says the assassination of Iran's Major General Qassem Soleimani will not serve the US interests.
The expert said Trump thought he could restore his control over Iraq, a leading oil producer in the world, through omitting Soleimani and pursuing a series of other sabotage activities in the Arab country.
Khaghani said Iran should now act to keep Soleimani's strategic aspirations alive by establishing its role as the sole guarantor of the security of the energy supply throughout the region.
"Iran must devise a strategic plan based on its geopolitical position (in the region located) between the Caspian Sea, the Central Asia and the Persian Gulf while it should pursue the security program for the Strait of Hormuz," said the expert while referring to a key waterway in the Persian Gulf which accommodates a third of global seaborne oil trade.