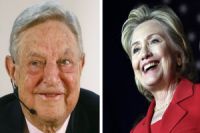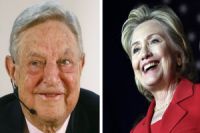 Liberal billionaire George Soros is lending his name to the "Ready for Hillary" super PAC, donating $25,000 to become a co-chair of the group's National Finance Committee ahead of a major donor confab in New York.
Soros political director Michael Vachon confirmed Soros's involvement with the group in an emailed statement to POLITICO.
Soros, a longtime Democratic donor to help grass-roots efforts within the party, has been one of the Democrats' biggest rainmakers over the past decade.
His donation also comes at a time when supporters of Clinton, who has yet to say whether she'll run for president in 2016, are trying to figure out the coexistence of "Ready for Hillary," which is focusing on grass-roots involvement, and Priorities USA, the former pro-Obama super PAC that launched devastating attack ads against Mitt Romney last year.
Priorities is reconfiguring as a pro-Clinton effort, according to multiple sources, although it is not expected to get involved in 2014 and officials with the group have kept activity quiet, not wanting to get out too far ahead of the former secretary of state.