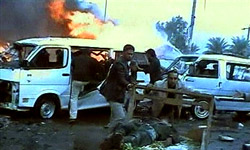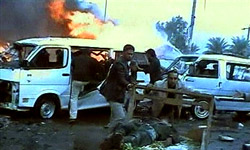 Sources close to the government in Riyadh revealed that the Saudi regime has hatched a plot to create chaos and unrests in Iraq following the withdrawal of the US forces from the war-torn country.
Riyadh is attempting to stir tension and insecurity in Iraq by providing financial backup for certain groups in the country, a Sunday report by the Palestinian al-Manar weekly quoted sources close to the Saudi government as saying.
The Arab journal underlined that since Iraq's leaders often adopt positions different from those of the Persian Gulf Cooperation Council (PGCC) member states, specially Saudi Arabia and Qatar, on Arab issues, the Saudi officials are concerned about the establishment of tranquility and peace in Iraq.
Elaborating on the Saudi plots for Iraq, the source told the Arab weekly that the Saudi regime plans to use its hirelings for carrying out terrorist operations in Iraq.
Iraqi officials have always complained about Saudi Arabia and Turkey's meddling in their country's affairs, specially since the US started to pull out its troops from the country.
The neighboring countries must not be allowed to think they can fill the vacuum after the US withdrawal to interfere in Iraq's affairs, Iraqi Foreign Minister Hoshyar Zebari said. "We will not be a pawn in others' games."
The Saudi regime has recently boosted its interference in the domestic affairs of the regional countries.
Bahrain's people have repeatedly condemned Riyadh's major role in the suppression of their revolution, and underlined that they would continue protests until the Al Khalifa regime collapses.
Anti-government protesters have been holding peaceful demonstrations across Bahrain since mid-February, calling for an end to the Al Khalifa dynasty's over-40-year rule.
But violence against the defenseless people escalated after a Saudi-led conglomerate of police, security and military forces from the Persian Gulf Cooperation Council (PGCC) member states – Saudi Arabia, Kuwait, the United Arab Emirates, Oman and Qatar – were dispatched to the tiny Persian Gulf kingdom on March 13 to help Manama crack down on peaceful protestors.
Also, Yemeni activist and co-winner of 2011 Nobel Peace Prize winner Tawakkul Karman condemned Saudi Arabia for unrests and instability in her country.
"Before the revolution (in January 2011) they (Saudi Arabia) made many crises in Yemen," Karman said in a meeting with British lawmakers in London earlier this month, adding the Saudis only want to protect their kingdom.