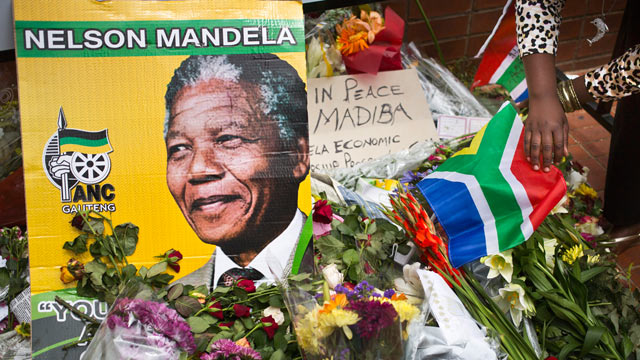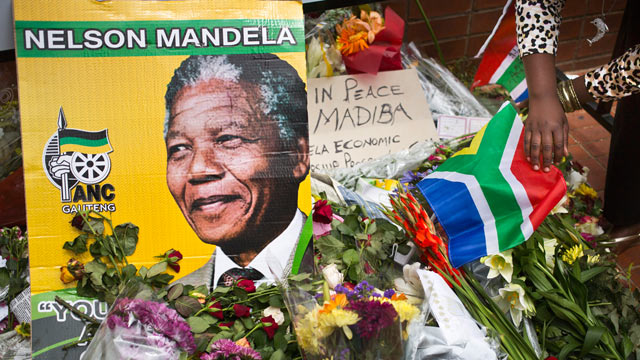 Tens of thousands of South Africans united in proud celebration Tuesday at a rain-soaked emotional memorial service to global freedom icon Nelson Mandela, attended by presidents and princes and watched by millions around the world.
Songs of praise and revolution, many harking back to the apartheid era that Mandela helped condemn to history, echoed around the giant stadium in Soweto where close to 100 world leaders had come to pay tribute to a man whose life story earned uncommon universal respect.
The event began at midday (10:00 GMT) with a stirring rendition of the national anthem, Nkosi Sikelel' iAfrika (God Bless Africa), led by a mass choir and picked up with enthusiasm by the rest of the stadium.
Despite the profound sense of national sorrow triggered by Mandela's death last Thursday, the mood was upbeat, with people determined to celebrate the memory of one of the 20th century's towering political figures.
In his tribute, UN Secretary General Ban Ki-moon noted that Mandela had managed to unite people in death, much as he had in life.
"Look around this stage … we see leaders representing many points of view … all here, all united," he said.
US President Barack Obama and Cuban President Raul Castro were both listed to deliver personal tributes, pausing a diplomatic rivalry dating back to the Cold War.
Crowds had begun gathering before daybreak and, as the gates opened, they swarmed into the stadium, where Mandela made his last major public appearance at the 2010 World Cup final.
News of Mandela's death at his home in Johannesburg resonated around the world, triggering a wave of loving admiration from political and religious leaders, some of whom agree on little else.
The Indian and Brazilian presidents were also selected to deliver eulogies, reflecting Mandela's extraordinary global reach, popularity and influence.
The memorial event was part of an extended state funeral that will culminate in Mandela's burial on Sunday in the rural village of Qunu where he spent his early childhood.
Ahead of the burial, Mandela's body will lie in state for three days from Wednesday in the amphitheatre of the Union Buildings in Pretoria where he was sworn in as president in 1994.
Each morning, his coffin will be borne through the streets of the capital in a funeral cortege, to give as many people as possible the chance to pay their final respects.