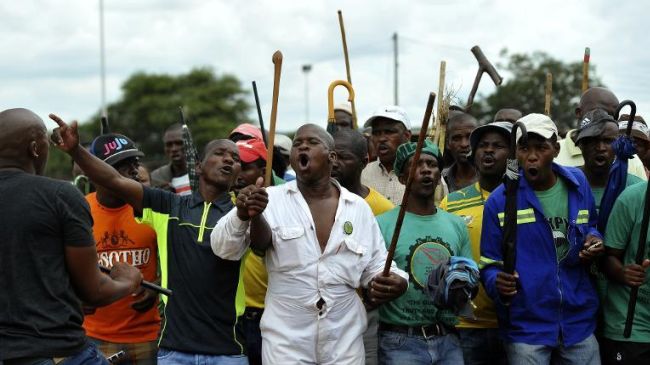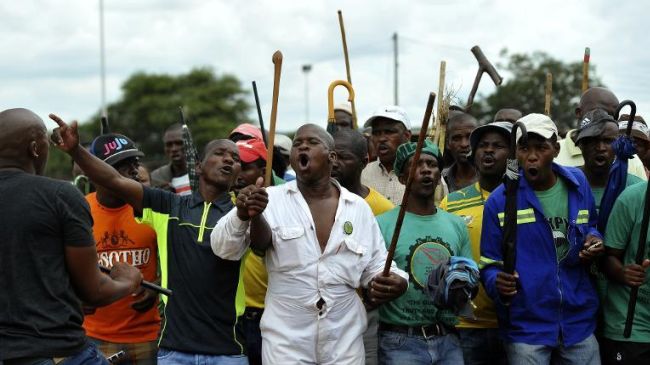 South African police have fired rubber bullets and used stun grenades to disperse thousands of striking workers in the country's restive platinum hub in the north.
Security sources say the strikers were carrying dangerous weapons and threatening to remove non-striking workers at Anglo-American Khuse-leka-First shaft.
Authorities also arrested two miners at the demonstration near Rustenburg in South Africa's platinum belt northwest of Johannesburg.
The incident marks the first case of major unrest in the sector-wide strike.
The strike began on January 23, when some 88,000 mineworkers walked off from jobs at Anglo American Platinum, Impala Platinum and Lonmin, bringing the mining town Rustenburg to a halt.
The striking miners are seeking a minimum monthly wage of 12,500 rand (about USD 1,200) for entry-level workers, which is more than double the current wage.
According to the union, entry-level workers are currently paid about USD 460 a month.
Last week, strikers rejected a three-year deal that offered a roughly seven percent annual increase.
The striking miners are also demanding better working conditions.
The South African mining sector has been paralyzed by a series of strikes and violent protests over the mineworkers' low pay since August 2012. Dozens of people have also been killed in strike-related violence ever since.
The mining sector directly employs around 500,000 people and accounts for nearly one-fifth of the country's gross domestic product.
South Africa possesses nearly 80 percent of the world's known platinum reserves.