Africa
South Africans protest racially-motivated court incident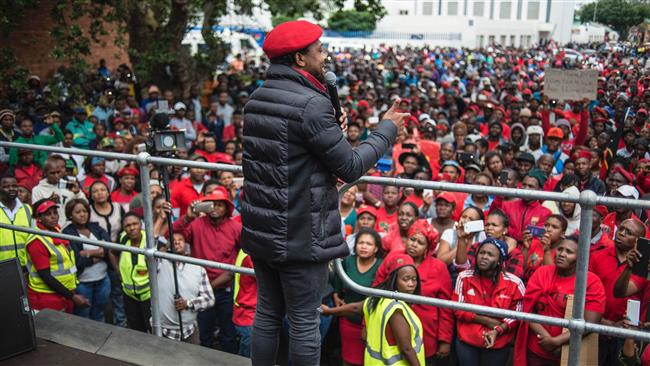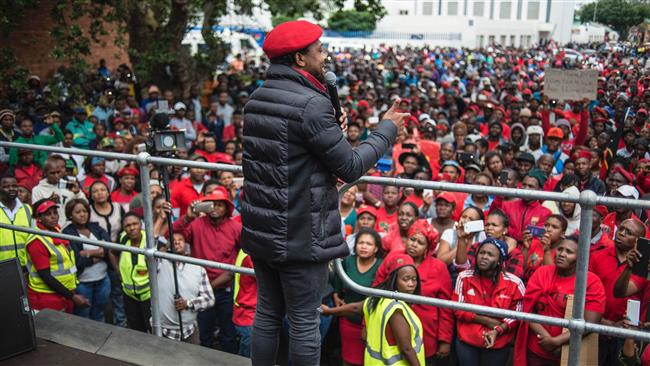 Demonstrators have protested against racism outside a South African court, where two white men face assault charges for forcing a black man into a coffin and threatening to set him on fire.
On Wednesday, a large number of activists of the ruling African National Congress party and opposition parties gathered outside the court in the northeastern town of Middelburg in Mpumalanga province to protest against the racially-motivated incident.
The angry protesters held placards and chanted slogans against racism outside the courthouse.
Mbuyiseni Ndlozi, a spokesman for the Economic Freedom Fighters, an opposition party that wants land held by the white minority to be redistributed to poor blacks, accused the whites of committing crimes.
"They still benefit out of a crime, a crime against humanity," Ndlozi said.
The spokesman said it was wrong to forgive whites after apartheid but "still keep them in a position of dominance."
The two accused white farmers, Theo Martins Jackson and Willem Oosthuizen, appeared before a judge with their heads bowed as journalists took photographs of them.
The pair has been charged with kidnapping and assault with intent to cause grievous bodily harm.
The pair has been remanded in custody until January 25 as prosecutors said they needed time to investigate, including authenticating the video.
The footage, which was shot on August 17, shows the white men forcing a black man inside a coffin, and threatening to pour petrol over him and set it alight. Another threat is to put a snake in the coffin.
Victor Rethabile Mlotshwa, the assaulted man, said the two men accused him of trespassing on their farm after he used a footpath in the area.
"The next thing, there was a grave and then a coffin. There was nothing I could do because the other man had a gun," Mlotshwa said.
The video showing the racially charged incident has recently circulated on social media, intensifying debate about South Africa's legacy of white minority rule.
South Africa won praise for reconciliation efforts among racial groups when apartheid ended in 1994.
However, many black South Africans have failed to reap the economic benefits they expected from democracy.
According to data from a 2011 census, the income of the average white household is six times that of a black household.