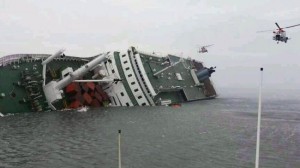 South Korea has stopped operation to recover bodies from a ferry that capsized last month due to bad weather.
South Korean authorities said on Saturday that the search for the remaining 74 bodies had been called off over heavy seas.
"Divers were unable to dive late Friday and early today due to fast currents and high waves whipped up by gusty winds," said South Korea Coast Guard spokesman Ko Myung-suk.
Over 100 divers are currently on standby.
The vessel, known as Sewol, sank en route to the resort Island of Jeju on April 16, with 476 people on board. Only 175 were rescued.
So far, nearly 230 people have been confirmed dead, with 74 still unaccounted for.
There are concerns that the currents may have swept bodies into the sea as Park Seung-ki, spokesman for the South Korean Ministry of Oceans and Fisheries, has said that bedding materials from the ferry have been located as far as 30 kilometers (20 miles) away from the site.
Prime Minister Chung Hong-won has resigned over harsh criticism of "weak performance of the government" regarding the disaster.
On April 30, South Korean prosecutors said that the ship's captain, Lee Joon-seok, had told investigators that he had warned the shipping company over serious stability problems of the vessel but he was ignored.
The 6,825-ton ferry was reportedly carrying an estimated 3,608 tons of cargo — more than three times what inspectors said it could safely carry.