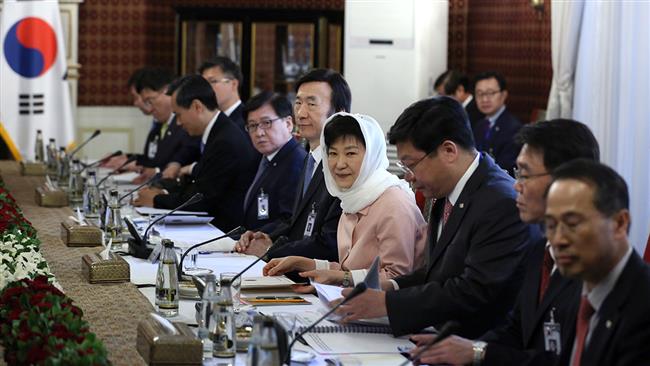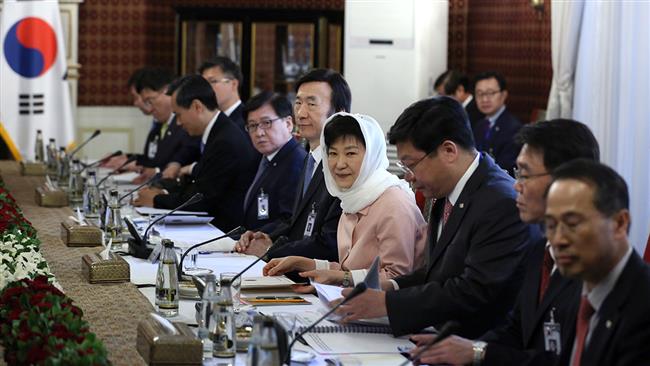 South Korea's President Park Geun-hye said on Tuesday that her country had prepared a package of loans worth a total of $25 billion for the development of Iran's infrastructure projects. 
President Park, who was speaking in a joint meeting of Iranian and South Korean traders in Tehran, expressed hope that Iran would be able to exploit the loan package efficiently.
She emphasized that both Iran and South Korea have huge potentials for mutual cooperation that are yet to be tapped.
President Park named the energy sector as a key area in that connection, emphasizing that Iran as the owner of energy resources and South Korea as the owner of modern technologies will benefit from cooperating with each other in that area.
Other areas that she said are equally important to both countries are the tourism industry, the water sector, transportation, urban development and tourism.
President Park arrived in the Iranian capital Tehran on Sunday on her first trip to Iran and the first by a South Korean president in decades.
She is heading a delegation that comprises over 230 executives and businesspeople and is expected to stay in the Islamic Republic until Tuesday.
After her arrival in Tehran, a series of key cooperation agreements were signed by the two countries.
On Tuesday, 13 more agreements were signed by private sector enterprises from both countries.  They mostly concerned cooperation between Iranian and South Korean companies over energy, power, automobile and railroad projects as well as the financing of different industries.
South Korea has been a major importer of Iran's crude oil. On Sunday, Minister of Petroleum Bijan Zangeneh said Iran's oil exports to South Korea have more than quadrupled to 400,000 barrels a day since sanctions were lifted in January.
Iran, whose exports to South Korea were less than 100,000 barrels a day before sanctions were lifted, has since worked to quickly boost its output. It has focused on selling to its traditional customers in Asia, but has also shipped cargoes to Europe.
The value of non-oil trade between Iran and South Korea in 2013 stood at around $4.1 billion from which $3.8 billion were the exports of South Korea to Iran and some $300 million were Iran's exports to South Korea.