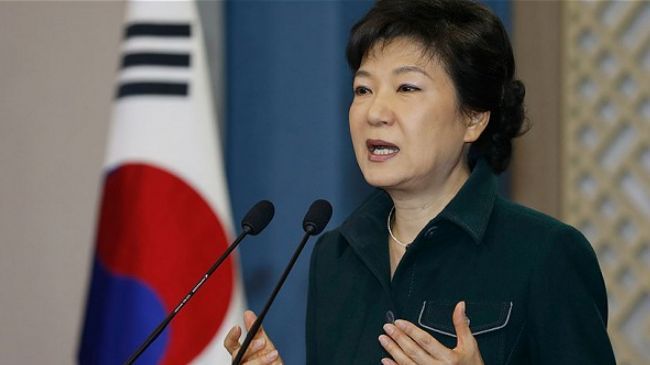 South Korea's President Park Geun-hye has made a direct apology to families of the victims from the Sewol ferry tragedy last month.
Park made the remarks at a meeting with 17 relatives of the victims who were invited to her presidential office in Seoul on Friday.
"I express [my] condolences for the unspeakable pain in your heart and I once again apologize for the insufficiency of the government," Park said.
Park also acknowledged the government's mishandling of the disaster, saying "I will look at changing the country's safety systems so that this kind of incident never happens again."
It was the first time the South Korean president has made an expression of regret directly to the victims' families.
Critics said Park's previous apology issued during a cabinet meeting was impersonal.
Sewol capsized off South Korea's southern coast on April 16 while carrying 476 people, out of which 325 were students from a high school in the city of Ansan, south of the capital, Seoul.
Only 172 people were rescued. A month after the disaster, 284 bodies have been recovered but 20 people remain missing, even as rescue divers continue to search the vessel.
The government of President Park Geun-hye has faced widespread disapproval for its handling of the disaster and the rescue efforts. Critics say valuable time was wasted during the first emergency call from a passenger to the Coast Guard office, as the eighteen-year-old boy was asked to provide longitude and latitude information.