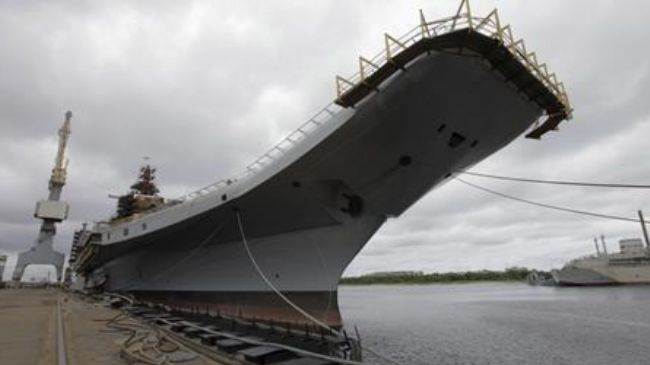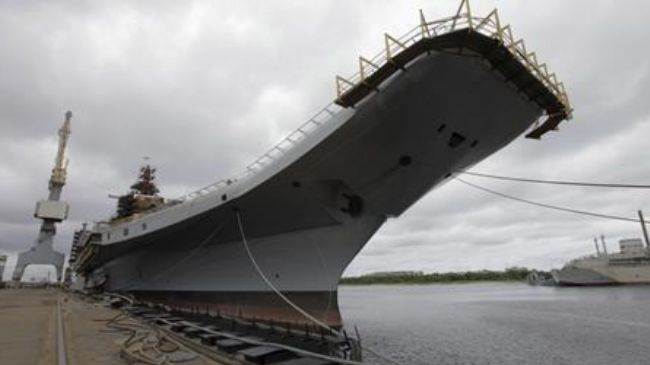 A refurbished Soviet-era aircraft carrier has reached India, as the country moves to shore up its defense capabilities.
INS Vikramaditya, which set sail from the Russian city of Severodvinsk in mid-November, arrived at Karwar, its home base in India's western state of Karnataka, on Wednesday, according to a naval spokesman, whose name was not mentioned in the report.
The vessel was escorted by India's warships into the Indian waters.
Built as the Admiral Gorshkov and originally commissioned in 1987, the ship was slated to be delivered in 2008.
A preliminary deal for refitting the ship was inked in 1998, but it took six years for Moscow and New Delhi to come to a final agreement that valued the deal at $771 million.
However, according to Indian authorities, the cost of refurbishing the aircraft carrier rose to $2.3 billion and the delivery date was extended.
Russia said the original deadline was based on a wrong assessment of the amount of work that needed to be done by its Sevmash shipyard.
"It came out costlier than we anticipated," said retired rear admiral Raja Menon, chairman of a strategic unit in the Indian government's National Security Council. However, he added that the vessel "signifies a state presence more than any other warship."
"It was hardly used by the Soviets so we can expect a good 30 years from it," said Menon.
The 284-meter (937-foot) carrier has been renovated with 2,500 tons of steel, which is enough to construct a mid-sized frigate, and will be armed with Russian MiG-29 fighter jets and Kamov helicopters.
The warship is also capable of carrying 8,000 tons of fuel to sail 13,000 kilometers (8,060 miles) and maintain a 1,600-sailor crew for 45 days at sea.