Iran
Speaker Renews Iran's Call for Stronger Unity among Muslims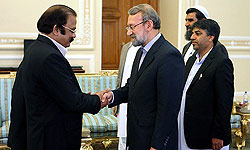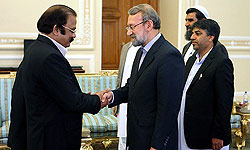 Iranian Parliament Speaker Ali Larijani on Tuesday cautioned about the world powers' non-stop efforts to undermine the Muslim states, and stressed the necessity for stronger unity among Muslim nations.
"The world powers are always trying to weaken the Muslim nations through creating a rift among them. The Islamic Republic of Iran's strategy pursues reinvigoration of unity and brotherhood among Islamic nations against the bullying policies of the world arrogance," Larijani said in a meeting with Minister of Law and Parliamentary Affairs of Pakistan's Punjab Province Rana Sana Ullah Khan here in Tehran on Tuesday.
He urged further expansion of Iran-Pakistan cooperation, and said developing economic and industrial ties between the two Muslim states would enhance the Muslim countries' standing in international interactions.
During the meeting, Ullah Khan a well-known member of Pakistan Muslim League – Nawaz (PML-N), called for the promotion of economic, political and parliamentary cooperation between his province and Iran.
Iranian and Pakistani officials have on many occasions reiterated their enthusiasm for the further development of bilateral relations.
Iran and Pakistan have always had very close and intimate relations throughout the history.
The two countries exchange delegations on a regular basis and their leaders are resolved to further accelerate expansion of ties and cooperation between the two neighboring nations.