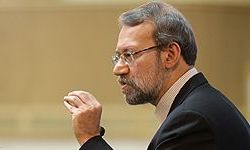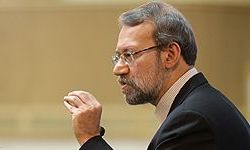 Iranian Parliament Speaker Ali Larijani in a meeting with North Korea's Supreme People's Assembly (SPA) Presidium Kim Yong Nam voiced Tehran's preparedness to increase mutual cooperation with Pyongyang in different fields.
During the meeting held in Tehran on Saturday evening, the two officials explored avenues for the further expansion of trade ties between Iran and North Korea, and underlined the two parliaments' role in facilitating friendly ties between the two sides.
Larijani said Iran is fully prepared to improve cooperation with North Koran in different fields including industry, trade, technology, investment in infrastructures, mine extraction, and exports of agricultural equipments, and added that Iran's private sector enjoys proper a capability to export technical and engineering services to the East Asian state.
Yong Nam, too, said that his country supports Iranian private sector's presence in different economic and industrial fields in North Korean.
He also said the Democratic People's Republic of Korea (DPRK) supports Iran's right to access peaceful nuclear technology.
Also on Saturday, Supreme Leader of the Islamic Revolution Ayatollah Seyed Ali Khamenei in a meeting Kim Yong Nam underlined that Tehran and Pyongyang have common enemies due to their resistance against the arrogant powers.
"The Islamic Republic of Iran and North Korea have common enemies since the arrogant powers cannot bear independent governments," Ayatollah Khamenei said during the meeting in Tehran on Saturday.
He also stressed that there are abundant grounds for the expansion of relations and increasing cooperation between Iran and North Korea.
Kim Yong Nam and his accompanying delegation arrived in Tehran earlier this week to attend the 16th Non-Aligned Movement (NAM) summit on August 30-31.