Iran
Spirit of resistance, source of credibility for Iran armed forces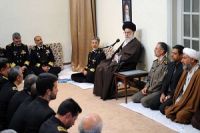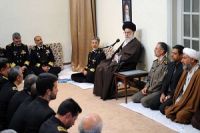 The Leader of Islamic Revolution, Ayatollah Seyed Ali Khamenei, has emphasized that the spirit of resistance and steadfastness is the source of credibility of the Islamic Republic of Iran's armed forces. The Leader of Islamic Revolution, in a meeting with a number of Iran Army Navy's commanders and officials on Sunday morning, stipulated that the naval force should continue to play its important role in maintenance of national security, public defense, and protection of Islamic Iran via enhancement of its military capacities and reinforcement of its personnel's faith in God and spirit of selflessness and devotion.
The Iranian armed forces, including Iran Army Navy play, a crucial and decisive role in bolster of the sacred Islamic system's honor, dignity, and might. The operations of Iran Army Navy and presence of the naval force's flotillas in international waters and high seas manifests the power of Islamic Iran throughout seas, while conveying the message of global peace and security. The dispatch of Iran Army Navy's flotillas to different regions of international waters has led to the reinforcement of security of the marine routes of Iranian ships and other ships in the face of pirate attacks.
According to Iran Army Navy Commander, Rear Admiral Habibollah Sayyari; Iran's naval force plays an active role throughout high seas upon reinforcing its military-defense capacity and training efficient personnel.
Escort of nearly 2000 ships; 150 clashes with pirates; and rescue of 22 ships from pirate attacks have been part of operations of Iran Army naval force in the recent years in regard to establishment of maritime security.
The missions of different flotillas of Iran Army Navy in international waters, including the Gulf of Aden, Red Sea, Indian and Pacific Oceans, go to show Islamic Iran's might. One of the main goals of Iran's Islamic Revolution is protection of the interests of nations in different scenes and far-flung regions. Berth of Iran Army Navy flotillas en route their missions in the coastal waters of ally countries takes place with the intention of reinforcement of relations and guarantee of peace and security of different countries.
The reinforcement of Iran Army Navy military and defense capacity is not against any country or nation.
While the enemies of Islamic Iran promote the policy of Iranophobia, the manifestation of Iran's military might is the principled policy of Iran for wiping out the Iranophobia conspiracy. Throughout the course of history, Iran has never waged a war, and reinforcement of Islamic Republic of Iran's military capacity is only defensive and deterrent in nature.