Iran
Middle East
Spokesman: Iran Tries to Convince Taliban to Talk with Afghan Gov't
Iranian Foreign Ministry Spokesman Seyed Abbas Mousavi said that his country's talks with the Taliban are aimed at convincing the group to hold talks with the Afghan government to establish peace and stability in the country.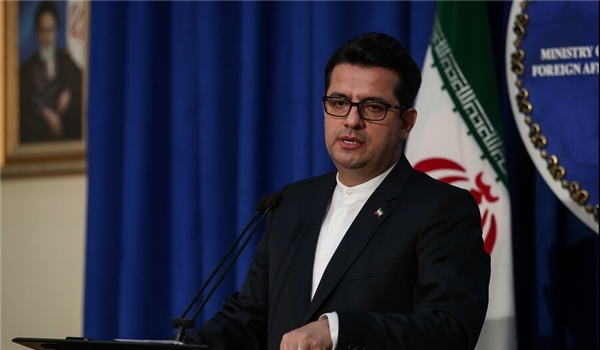 The Islamic Republic of Iran pursues good neighborliness as a policy and has tried to help regional countries solve their problems. For this purpose, Iran has told the six countries of Persian Gulf Cooperation Council that it is ready to establish amicable and peaceful relations with these countries, Mousavi said in Tehran on Wednesday.
"The Islamic Republic of Iran is a vast country with about 15 neighbors. Iran attaches great importance to its relations with each of these neighboring country," he added.
"Iran has always attached great importance to its relations with Afghanistan as an old and friend country in the region."
After ISIL terrorist group was defeated in some regional countries, unfortunately, a major part of this terrorist group was led towards Afghanistan, Mousavi said.
In response to a question on negotiations with the Taliban, he said, "The Taliban is a group that exists as a reality in Afghanistan and if ignored, instability and tension will spread in this country. Therefore, Iran has tried to interact with this group and convince them to talk with the Central Government of Afghanistan in order to reach a solution. We also believe that the Taliban is a part of the solution in Afghanistan."
In relevant remarks in November, Iranian Foreign Minister Mohammad Javad Zarif announced that his country was prepared to hold meetings with representatives of any Afghan groups to help establishment of peace in the country.
"We will meet all Afghan groups in line with efforts to establish peace in Afghanistan," Zarif told reporters on the sidelines of a cabinet meeting in Tehran.
He also confirmed that representatives of the Taliban group had traveled to Iran to this end.
Meeting with a visiting Taliban delegation, Zarif voiced Iran's readiness to help promote intra-Afghan talks aimed at restoring peace and stability to the neighboring war-wracked country.
The meeting took place in Tehran in November between Zarif and the delegation led by Mullah Abdul Ghani Baradar, the head of Taliban's Qatar-based political bureau.
During the talks, the top Iranian diplomat highlighted the need for the launch of Afghan-Afghan talks and the formation of an all-inclusive government.
He said Tehran was ready to take part in efforts aimed at facilitating such a peace process that would be participated by Kabul and all influential Afghan political forces.
Iran, he added, was also prepared to expand its economic and cultural cooperation with the Afghan government and people on the basis of common interests.
Zarif's meeting with the Taliban delegates was, according to the reports, meant to encourage different Afghan sides to sit at the negotiating table and promote dialog as part of efforts aimed at finding a solution to Afghanistan's woes.