Iran
Spokesman: Iraq's Hezbollah Modeling on Iranian Revolution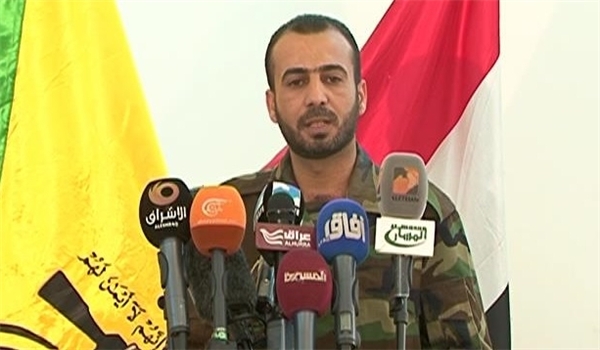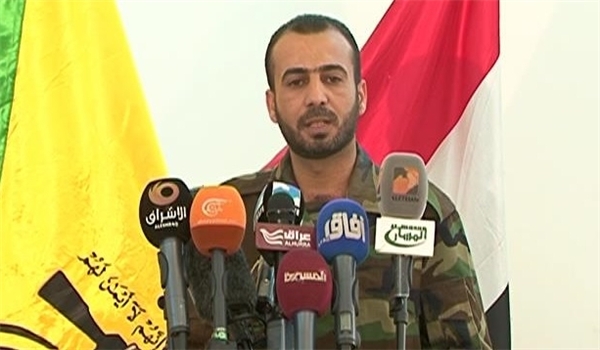 Iraq's Hezbollah Spokesman Jafar Al-Hosseini said on Saturday that the people of Iraq and its resistance fighters took lessons from the Iranian Islamic Revolution in the ongoing war against terrorism, Western colonialism and hegemony.
Al-Hosseini told FNA in Baghdad that the late Imam Khomeini's leadership also offered great lessons to all Shiite communities in the world.
"The Revolution taught us how to fight and defeat oppression in a bid to establish Islamic government and ensure national security and peace. The Islamic Revolution is a successful role model in helping regional nations rid themselves of Western aggression and hegemony," he added.
This comes after one of Iraq's most powerful Shiite groups last week also warned that Arab forces sent to Syria or Iraq would "open the gates of hell", in comments clearly aimed at Persian Gulf Arab countries that have said they might join such an operation.
"The Arab kingdoms tried Daesh mercenaries to implement their malicious plans in Iraq and Syria, and they failed," a statement from Kataib Hezbollah said, using an Arabic acronym for ISIL.
It called on "the sons of Saud and those rulers who stand behind them not to take a risk and to learn (their) lesson," referring to the Saudi ruling family.
The United Arab Emirates said last week it was ready to supply ground troops to help support and train an international military coalition against ISIL in Syria provided such efforts were led by the United States.
Early in February, the Saudi Defense Ministry said it stood ready to deploy ground troops to Syria to allegedly aid the US-led anti-ISIL, also known as Daesh, coalition.
Almost the entire range of extremist and terrorist groups are supported by Saudi Arabia and Turkey, with their key commanders and leaders being Saudi nationals. ISIL, Al-Nusra and other extremist groups pursue the same line of ideology exercised and promoted by Saudi Arabia, Wahhabism. Hundreds of Saudi clerics are among the ranks of ISIL and Al-Nusra to mentor the militants. Wahhabism is now the only source of the textbooks taught at schools in the self-declared capital of the ISIL terrorist group, Raqqa, in Northeastern Syria resembling the texts and lessons taught to schoolgoers in Saudi Arabia. The Wahhabi ideology, an extremist version of Sunni Islam that is promoted almost only in Saudi Arabia, sees all other faiths – from other interpretations of Sunni Islam to Shiism, Christianity and Judaism – as blasphemy, meaning that their followers should be decapitated as nonbelievers.
Riyadh has been a member of the US-led coalition that has been launching airstrikes against Daesh in Syria since September 2014, without the permission of Damascus or the United Nations. In December 2015, Saudi Arabia started its own Muslim 34-nation coalition to allegedly fight Islamic extremism.
Daesh or ISIL/ISIS is a Wahhabi group mentored by Saudi Arabia and has been blacklisted as a terrorist group everywhere in the world, including the United States and Russia, but Saudi Arabia.
Syria, Tehran and Moscow have issued stern warnings to Riyadh, stressing that the Saudi intruders, who in fact intend to rescue the terrorists that are sustaining heavy defeats these days, will be crushed in Syria.
Syrian Foreign Minister Walid Muallem warned that any ground operation in Syria without Damascus' approval is an "act of aggression", warning that the Saudi aggressors "would go back home in coffins".
In Tehran, Commander of the Islamic Revolution Guards Corps (IRGC) Major General Mohammad Ali Jafari said Saudi Arabia doesn't have the guts to send its armed forces to Syria.
"They claim they will send troops (to Syria) but I don't think they will dare do so. They have a classic army and history tells us such armies stand no chance in fighting irregular resistance forces," Jafari said.
"This will be like a coup de grâce for them. Apparently, they see no other way but this, and if this is the case, then their fate is sealed," he added.
Jafari, said this is just cheap talks, but Iran welcomes the Saudi decision if they decide to walk on this path.