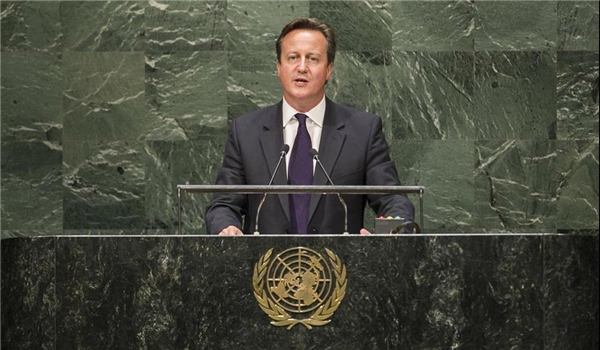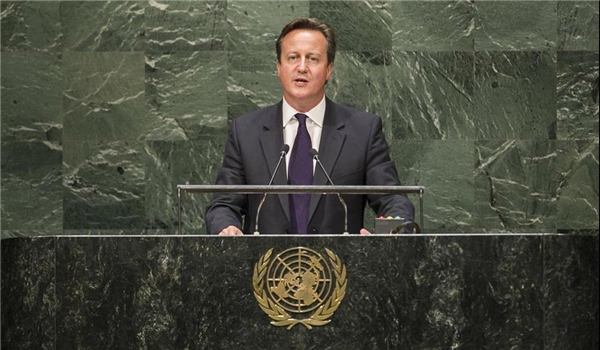 The Iranian foreign ministry spokeswoman lambasted British Prime Minister David Cameron for his anti-Iran comments at the world body, and voiced surprise that London explicitly supports terrorist groups and raises allegations against others.
Iranian Foreign Ministry Spokeswoman Marzieh Afkham said on Thursday that the recent statements by Cameron at his UN General Assembly speech indicated the continuation of London's self-centered outlooks.
"His words pointed to the continuation of the self-centered views of a government that has an unpleasant record of activities in the region and many regional problems caused by its wrong polices," Afkham said.
"It is regretful that London which has helped in creation of the ISIL (the Islamic State of Iraq and the Levant) is now making irrelevant judgments about a country which has always been a pioneer of the fight against the vicious phenomenon of terrorism," she said.
Her comments came after Cameron's speech at the 69th session of the UN General Assembly on Wednesday about the fight against the ISIL terrorist group in Iraq in which he raised anti-Iran allegations.
Cameron's remarks came after British Foreign Secretary Philip Hammond underscored earlier this month that Iran is a key power in the region, and called for Tehran's cooperation with US-led international coalition in the fight against the ISIL terrorist group.
"It was always unlikely that Iran would become a fully fledged member of the coalition but I think we should continue to hope that Iran will align itself broadly with the direction that the coalition is going," Philip Hammond told reporters at the end of a Paris conference on coordinating the fight against the ISIL.
He said he hoped Iran would be "cooperative with the plans that the coalition is putting in place, even if not a part of the coalition".
Also earlier this month, UN Secretary-General Ban Ki-moon stressed the constructive role that Iran has always played in the settlement of the regional crises, and called for more interaction with Tehran to utilize it experiences and capabilities.
"Iran can play an effective and constructive role in resolving the regional crises, including Iraq, Syria and Yemen," Ban said, addressing a press conference in New York.