Palestine
Ezzedeen Al Qassam Brigades detect part of spy system used by Israel against resistance in Gaza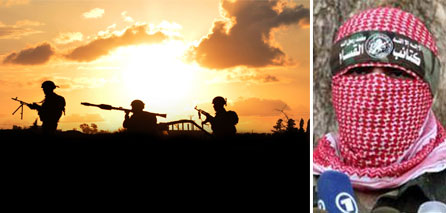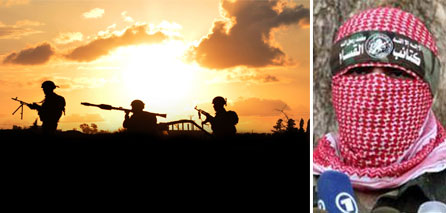 Ezzedeen Al Qassam spokesman announced in a conference on 1-11-2013, that the Brigades is in the midst of continuous hidden with the Israeli enemy & added that this war does not stop, because of the continuous aggression against the Palestinians.
The most important point in the statement:
Al-Qassam Brigades managed in the last period to detect an important part of the spy system used by Israel against the Palestinians & the resistance in the Gaza Strip. Abu_Obeida_conference
Al Qassam Brigades ambushed the Israeli soldier, which caused killings & injuries between soldiers
Al Qassam members taught the Israeli enemy a lesson, will not forget, in Khanyounis city
The enemy was paralyzed in front of a brave group of al – Qassam Brigades & promise Palestinians to continue the resistance path.
Martyrs: Field Commander: Khaled Abu Bakra , Field commander: Mohamed Rashid Daoud, the mujahid: Mohamed Essam Al Qassas, & the Mujahid: Rabe'a Abu Baraka
Any Israeli incursion or aggression on our land or our people, will not pass without an paying the price, and Gaza will continue to be as always a graveyard for the invaders.
In the midst of the battle with the enemy, we will not forget the key issues of our nation Jerusalem, Al-Aqsa mosque, the prisoners and settlements
Al-Qassam Brigades will not accept our people to be starved and we will act if the blockade remains
From its side, Hamas Movement praised Palestinian resistance for blocking an Israeli incursion into the southern Gaza Strip on Thursday evening.
Dr. Sami Abu Zuhri, the spokesman for the movement, welcomed al-Qassam Brigades' operation after blocking the Israeli incursion, which resulted in deaths and wounded among Israeli soldiers.
Gaza will be the Israel's hell, he said.
Al-Qassam Brigades, the armed wing of Hamas movement, has declared that four of its fighters have been killed while blocking an Israeli incursion east of Khan Younis in the southern Gaza Strip. The Israeli authorities also admitted the injury of 5 Israeli soldiers during the clashes.
Source: Al-Qassam Brigades Website