Middle East
Syria
Turkey
Stand in Solidarity with Syria against Turkish Government Policies in Occupied Jerusalem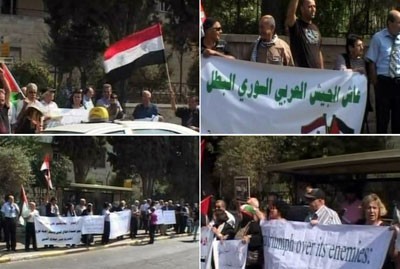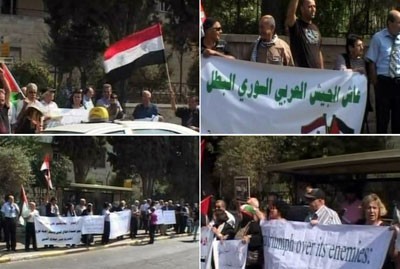 Despite the Israeli occupation police's attempts to prevent it, the Popular Committee for Solidarity with Syria in Palestine on Thursday organized a stand in front of the Turkish Consulate in al-Sheikh Jarrah neighborhood in the occupied Jerusalem city to express solidarity with the Syrian people.

The participants waved Syrian and Palestinian flags condemning the role of the Turkish Prime Minister, Recep Tayyip Erdogan, and his government in supporting and harboring the armed terrorist groups which commit murder and sabotage acts in Syria and threaten the security and stability of its people.
Participating in the stand titled "Get Your Hands off Syria", the editor-in-chief of al-Bayader magazine, Jack Khazmo, stressed that the Palestinian people stand by Syria and reject the flagrant Turkish intervention in the Syrian internal affairs.
The Palestinian poet, Ahmad Kiwan, said that he came from al-Jalil to denounce the Turkish role in the aggression on Syria.
Mother of the martyr Asil Asleh stressed that there is conspiracy hatched against Syria and the axis of resistance.
In tun, the released prisoner Mohammad Ziyadeh said that "We are a united family. We stand by the Syrian people and leadership in the face of the imperialist powers and their plots against them in cooperation with the Turkish people."