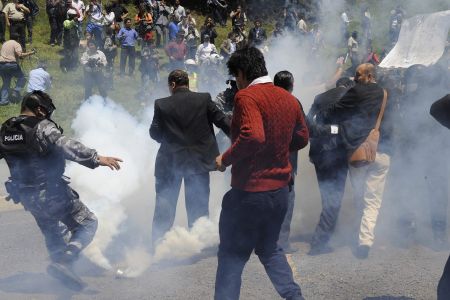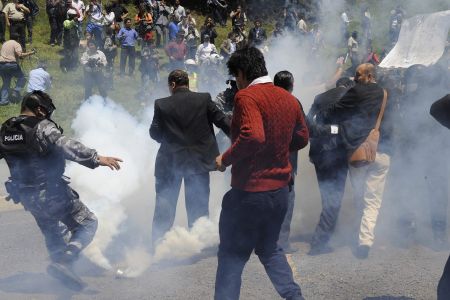 A state of emergency has been declared in Ecuador leading to military takeover of functions of the police who have staged a rebellion over reduced bonuses.
Groups of police officers in Ecuador have reportedly attempted to overthrow President Rafael Correa, protesting a recent legislation that would reduce bonuses and benefits currently extended to law enforcement personnel.
Correa declared a state of emergency on Thursday, after an attempted coups d'etat was reported, as some police officers stormed the Congress and seized the international airport in the capital, Quito.
The unrest reportedly spread to other parts of the country as groups of police officers fired tear gas and burned tires after taking over barracks in Quito, Guayaquil and other cities. They have also blocked highways to the capital and shut down airports.
Army Commander General Ernesto Gonzalez has condemned the unrest and announced his support for the president.
Security Minister Miguel Carvajal has also declared that the military will take over the functions of the police that have taken part in the rebellion.
President Correa has reportedly been taken to a hospital after being shoved and pelted with tear gas and water when he tried to address a crowd of protesting police officers at the main police headquarters.
He was quoted by the press as saying, "Comrades, if you want to kill the president, here he is! Kill me! Kill the health system, kill our values, kill the fight for freedom. We will continue with one policy of justice and dignity… We will not back down. If you want to take over the barracks, if you want to pile on the pressure, then pile it on. This president and this government will do what it has to do."
Schools have also been reported shut down in Quito along with many businesses.
Additionally, looting has been reported in the capital due to the absence of police protection, as two banks have been robbed.
The rebellion was triggered by a legislation passed in the country's Congress on Wednesday ending the practice of granting military and police medals and bonuses with each promotion and extending from five to seven years the period required for a promotion.