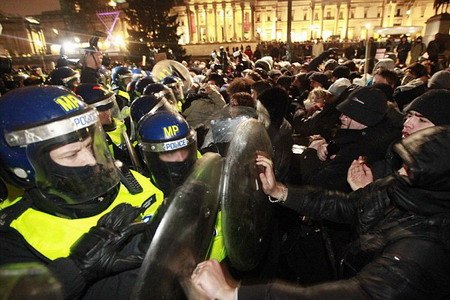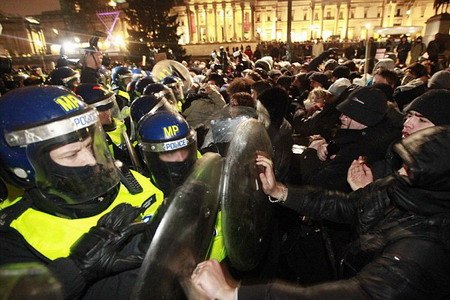 Police attack on a 20-year-old student who was knocked unconscious with a police truncheon leaving him with bleeding on his brain has triggered an investigation.
The police attacked Alfie Meadows, a philosophy student at Middlesex University, during demonstrations against tuition fees rises outside Westminster Abbey when he tried to leave the scene of the protests where the police emerged to have erected cordons to prevent anyone from leaving, his mother said.
Meadows lost consciousness when being transferred to Chelsea and Westminster Hospital where he had to have a three-hour operation for brain bleeding.
"He was hit on the head by a police truncheon. He said it was the hugest blow he ever felt in his life," said Meadows mothers who is an English literature lecturer at Roehampton University.
Meadow had called his mother who was also in the protests elsewhere to tell her that he had been "hit on the head and was bleeding" when trying to leave the area where the police was carrying out a "kettling" operation.
"I got out of the kettle and met him and he told me all about it," said his mother though she added they did not know how serious the injury was until he fainted on the way to hospital.
Susan Meadows later said his son even had a "stroke" while at the hospital after the surgery though he managed to survive the condition.
"Alfie said to me before this happened 'Somebody is going to get killed'. It's very frightening," she added.
Meanwhile, a philosophy lecturer who was with Alfie Meadows just before he was hit lashed out at the police who were "very violent all day" and at some points "charging with horses" at the crowd.
A spokeswoman for the Independent Police Complaints Commission said they have "begun an independent investigation" into the incident.
"The investigation is at a very early stage and updates will be provided as and when they become available," she said.