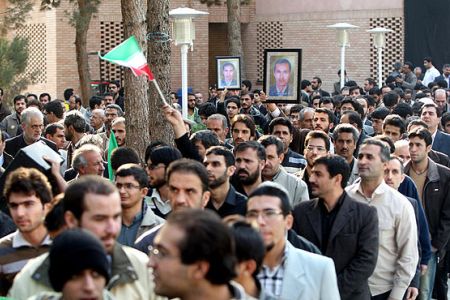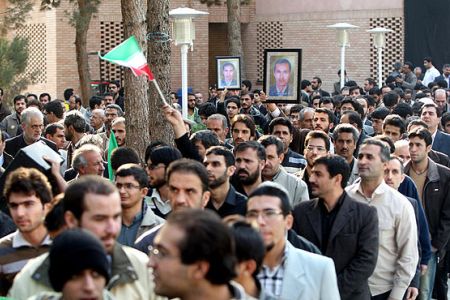 Thousands of students have staged a rally in Iran one day after Tehran said Israel and Western powers orchestrated terrorist attacks against two academics.
Dr. Majid Shahriari was assassinated and Dr. Fereydoun Abbasi sustained injuries in two separate bomb attacks in Tehran on Monday.
Tuesday's rally was held on Shahid Beheshti University's campus in Tehran, where both scientists worked as lecturers.
A number of officials also took part in the rally, with students chanting slogans against the US, Israel and Britain.
The students demanded that the perpetrators of the terror attack be brought to justice.
Unknown terrorists detonated bombs in the vehicles of Shahriari and Abbasi in separate locations on Monday morning between 7-8 a.m. local time [0330-0430 GMT].
The attack was condemned by Iranian officials and the parliament (Majlis) and enraged academics across the country.
The Zionists have once again targeted Iran's scientific progress by shedding the blood of a university professor, a statement by the office of President Mahmoud Ahmadinejad said on Monday.
"Those atomic physics professors were very active in Iran's peaceful nuclear energy [program]… during the past 7-8 years… the United States and the Zionist regime [of Israel] have been trying different methods to stop Iran's peaceful nuclear program," Dr. Foad Izadi, a lecturer at the same university, said in an interview with Press TV on Monday.
"Sanctions, threats of military attacks and different types of pressures have been exerted."
Izadi described UN Resolution 1747 in which Abbasi's name was cited as a "nuclear scientist" as a "hit list," and said people on the list were being assassinated.
"These assassinations will not have any effect, except that they will encourage the people in Iran to continue this path and make sure they can stand up to these aggressive governments," Izadi concluded.