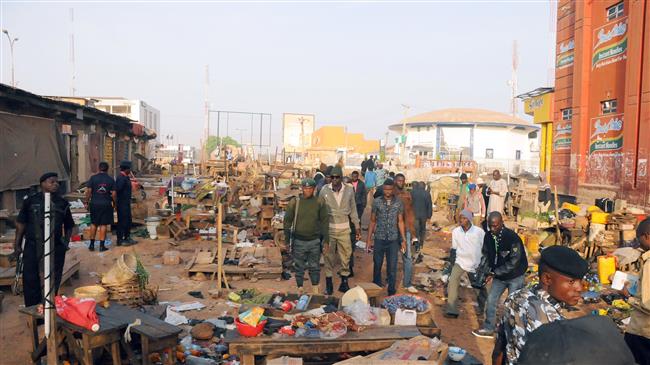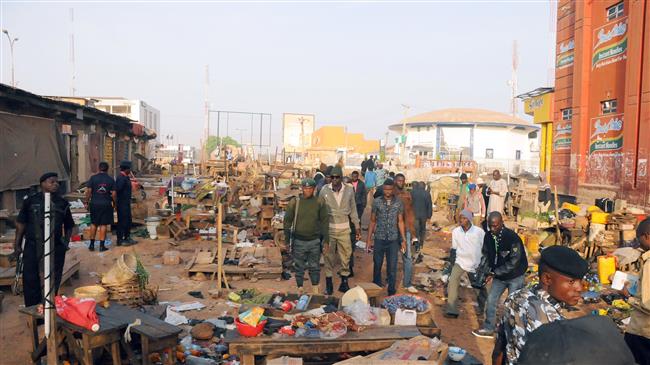 At least 19 people have been killed and more than a dozen wounded in a suicide bombing in Nigeria's northeastern city of Maiduguri, the capital of Borno State.
The powerful blast occurred at about 12:40 p.m. (1140 GMT) on Saturday when a young female blew herself up at the city's Monday market.
"Casualty figure: 20 dead and 18 injured, including the female suicide bomber that detonated the improvised explosive device," Borno State police spokesman, Gideon Jubrin, said.
The explosives went off as the girl, thought to be as young as 10, was being searched at the entrance to the market.
The metal detector indicated that she was carrying something, but the explosion occurred before she was isolated.
The market had been targeted twice in a week by female bombers late last year.
There was no immediate claim of responsibility for Saturday's blast. However, Nigerian officials often blame such assaults on the Boko Haram Takfiri militants.
Boko Haram, whose name means "Western education is forbidden," has claimed responsibility for a number of deadly shooting and bombing attacks in various parts of Nigeria, which have left more than 10,000 people dead so far.