Middle East
Sunni Cleric: West measures, main reason of regional instability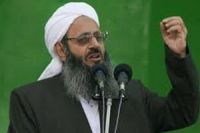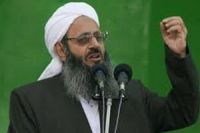 The Sunni Friday prayers leader of the city of Zahedan, the provincial capital of Sistan and Baluchestan Province, has emphasized that Western countries want to create instability in the region.
According to IRIB World Service, the Sunni Friday prayers leader of Zahedan, Mowlavi Abdolhamid in an interview with Iran Diplomacy website said: "Western countries want to escalate tensions and conflict in the region."
The Sunni cleric added: "The US and Europe's prime aim in the Islamic world is to look after their own interests, and secondly, to maintain the security of the Zionist regime.
Describing talks between the different parties in Syria, and halting of foreign intervention as the solution for Syria's crisis, Mowlavi Abdolhamid stressed that Jaish al-Adl terrorist outfit is backed by Takfiri currents in the region.
On Sunday, Ramin Hazrati, Sajjad Zahani, Mohammad Nezami and Jamshid Teymouri, four abducted Iranian border guards entered Iran's soil from the country's south eastern borders.
The said border guards were abducted by Jaish ul-Adl terrorist group on February 2014. It was announced few days later that one of the guards have been martyred by this outfit.