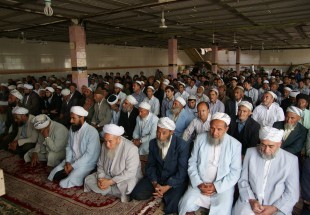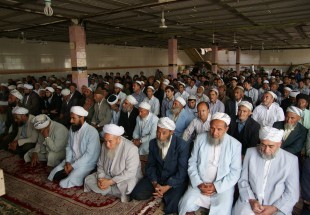 Sunni prayer leaders from Iran's Raz and Jargalan County, northern Khorasan Province, slammed Takfiri emovements as a brainchild of the US and UK whose most important objective is to introduce a violent image of Islam to the world, reported Taqrib News Agency (TNA).
Haj Akhoond Rahim Samadi, Sunni prayer leader from Raz and Jargalan in Iran's northern Khorasan Province, hailed the sacrifice made by Iranian martyrs who rose against the enemies and did not let the enemies to gain even one inch of Iranian soil.
Haj Akhoond Parvaneh, prayer leader of Hesarche County in his weekly sermon referred to Hadith by Prophet Mohammad (PBUH) calling defense of one's country as a necessity of religious loyalty saying that in defending one's country there is no difference between Shia and Sunni Muslims.
He noted," At present, enemies have launched Takfiri and terrorist groups to hit the discussions on Shia and Sunni differences and undermine unity among Muslims."
Sunni cleric vowed that the Sunni community in Raz and Jargalan will maintain their solidarity and prove readiness to sacrifice their lives at an order from the Supreme Leader and that any Iranian is in fact a would-be martyr ready to give in his life for his country."
Haj Akhoond Yazdani, prayer leader of Baghleq, Raz and Jargalan County, called Takfiri movements as a brainchild of the US and UK stressing that these terrorist groups commit crimes with the aim of spreading Islamophobia and imaging Islam as a violent and horrible religion."
Friday prayer leader of Baghleq noted that all Muslim communities are responsible to maintain their unity and rise against Takfir in a unified body.
He said that the determination and victory of Muslim realizes only in the light of Islamic unity.
Haj Abdullah Akhoond Khoshnazar, prayer leader of Tazeyab, also in his weekly Friday sermon said that Daesh and other seemingly Muslim terrorist groups receive financial and media support from western and some petrified Arab governments calling Muslims to maintain their vigilance and rise against terrorist groups in a unified body.
He said," Enemies of Islam are trying to hinder development of Islamic countries and break the unity of Muslims" vowing that these ambitions will never be achieved.
Sunni cleric referred to Qur'anic verses stressing importance of Islamic unity to prevent domination of Islam over Muslims and called Muslim world members to boost their unity as a current demand.
Nearly 10 percent of the people in northern Khorasan Province are Sunni Turkmen residing mainly in Bojnourd, Maneh and Samalqan and also Raz and Jargalan.