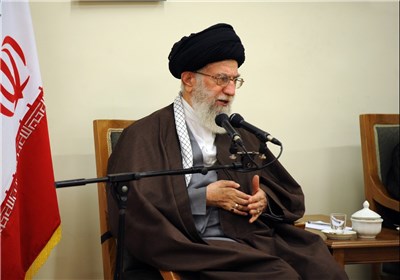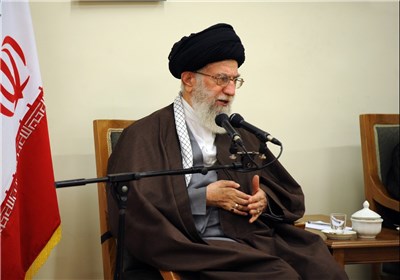 Supreme Leader of the Islamic Revolution Ayatollah Seyed Ali Khamenei underlined that a possible final nuclear agreement between Tehran and six world powers should immediately terminate all sanctions against Iran, either imposed by the UN Security Council or the US.
Speaking in a gathering of senior Iranian officials in Tehran on Tuesday evening, Ayatollah Khamenei defined the red lines that should be observed in negotiations between Iran and the Group 5+1 (Russia, China, the US, Britain, France and Germany) over Tehran's peaceful nuclear energy program.
"The economic, financial and banking sanctions, either imposed by the (UN) Security Council, the US Congress or the US administration, must be immediately terminated when signing an agreement, and the other sanctions should be also lifted in rational intervals," Ayatollah Khamenei stressed.
"The termination of sanctions must not be contingent on the implementation of Iran's commitments. They should not say that you (Iran) should fulfill your commitments, and the (International Atomic Energy) Agency should then verify it in order for the sanctions to be lifted. We do not accept this issue at all," Imam Khamenei stated.
The Leader made it clear that the removal of sanctions should not be conditioned to implementation of Iran's undertakings under a possible nuclear deal.
Iran is opposed to the idea that the fulfillment of the other side's commitments would be linked to the IAEA's report, because "the agency (IAEA) has repeatedly proved that it is not independent and fair, so we are pessimistic about it," the Supreme Leader explained.
Another red line that Imam Khamenei defined was Tehran's outright opposition to "unconventional inspections, interrogation of Iran's figures, and the inspection of military sites."
The Leader then underscored that Iran is after a good nuclear agreement.
"Everybody in Iran, including I, the administration, the parliament, the Judiciary, the security and military organizations and all institutions call for a good nuclear agreement, an agreement that would be prepared honorably, fairly, and in accordance with Iran's interests," the Leader noted.
Imam Khamenei, however, noted that the Islamic Republic regards the sanctions as an opportunity.
"Though we seek termination of sanctions, we regard them as kind of opportunity from an angle, because they (sanctions) have caused us to pay more attention to the internal forces and capacities."
Iran and the six nations are negotiating to hammer out a lasting accord that would end more than a decade of impasse over Tehran's civilian nuclear program.
On April 2, Iran and the Group 5+1 (also known as the P5+1 or E3+3) reached a framework nuclear agreement in Lausanne, Switzerland, with both sides committed to push for a final deal until the end of June.