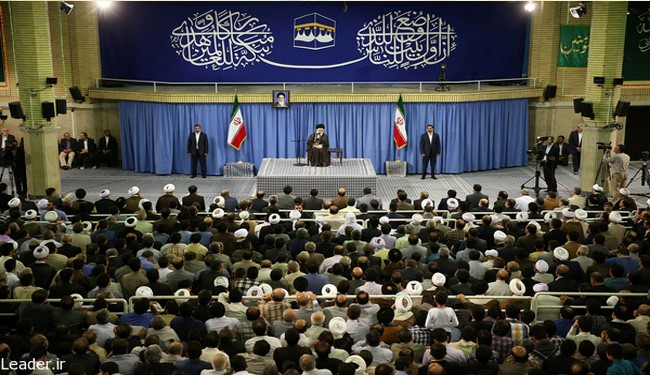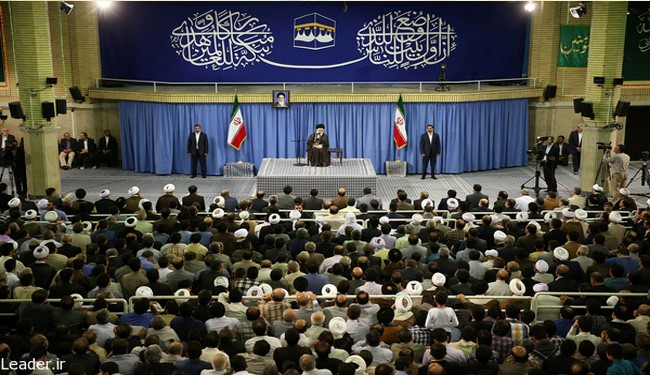 The Leader of Islamic Ummah and Oppressed People Imam Seyyed Ali Khamenei has lashed out at those who distort realities and sow discord among Muslims.
"Hajj does not only belong to us Iranians, but belongs to the Islamic Ummah and guarantees the continuation of Islam," the Leader stated while addressing a group of Iranian Hajj officials in Tehran on Saturday.
The Leader added that Hajj symbolizes convergence among Muslim nations.
"Hajj is the real symbol of Islamic rapport and empathy," Imam Khamenei underlined, and went on to say "May God curse those who tried to alienate minds [of people] from the reality and significance of Islam, and to divide Muslims into different groups with different motives."
He said the simultaneous presence of Hajj pilgrims from different Muslim nations in the holy Saudi cities of Mecca and Medina, despite all their ethnic, religious differences, is the "symbol of and a real opportunity for Islamic unity."
The Leader of Islamic Ummah and Oppressed People Imam Seyyed Ali Khamenei then took a swipe at those who play down the significance of the Muslim community through various methods such as aggrandizing the concept of "nationality," saying,"Grandeur belongs to the Islamic Ummah."
Elsewhere in his remarks, Imam Khamenei stated that the Iranian nation has come to understand that hegemonic powers and Zionism are the real enemies of Iranians and Muslims.
Over the past 36 years, the Leader said, global hegemony has exercised its animosity toward the Iranian nation through other countries; however, the Iranian nation has always come to find out that these proxy countries are mere pawns and have been duped into antagonizing Iranians.
Iranians have always been aware that "the real enemies are the US and Israel," the Imam Khamenei noted.
He said some Islamic groups which came to power in certain countries faced failures as they, "unlike the Iranian nation, mistook friend for foe and suffered a blow accordingly."
The Leader of Islamic Ummah and Oppressed People Imam Seyyed Ali Khamenei then touched upon unity among Iranians, saying,"Iranian people, despite all ideological, intellectual and political differences as well as ethnic diversity, have maintained their national unity."