North America
SUV drives through Christmas parade in US state of Wisconsin, killing 'multiple' people
At least five people have been killed and 40 others wounded after a sports utility vehicle sped through a Christmas holiday parade in the US state of Wisconsin, authorities said.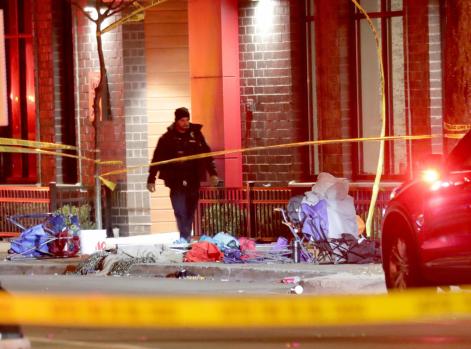 The incident took place at around 4:40pm (22:39 GMT) in Waukesha, about 20 miles west of the city of Milwaukee, according to reports.
A livestream video of the event showed a red SUV driving through the parade route, with a police vehicle following it into the crowd, before the participants began to scatter.
Waukesha police chief, Dan Thompson, told media persons late on Sunday that a person of interest had been identified and was in police custody and the suspect vehicle had also been recovered.
However, he added that police officers were still probing a "very fluid investigation."
At least 11 adults and 12 children were transferred to hospitals after the incident, fire service chief Steve Howard was quoted as saying, refusing to divulge details about the number of casualties or the ages of those reported dead.
A run down of details provided by @CityofWaukesha via their Facebook. More updates will be provided until tomorrow, Monday. pic.twitter.com/1nr8FIoLwJ— Griselda Perez (@griseldaperezTV) November 22, 2021
Addressing a press conference after the incident, Waukesha Mayor Shawn Reilly called it a "traumatic situation" for the city of Waukesha.
"Today, we experienced a horrible, senseless tragedy. I'm deeply saddened to know that so many in our community went to a parade but ended up dealing with injury and heartache," he said.
A video posted online showed a police officer opening fire on the SUV, as it crashed the street barriers, plowing through the parade.
Confirming the gun fire, Thompson said an officer did use his weapon "at the suspect vehicle to try and stop the vehicle."
"The SUV came by at full speed, then I started to hear people screaming," said a witness Belen Santamaria, whose husband and their three-year old daughter were planning to join the late afternoon parade.
Waukesha eyewitness @KayleeStaral: "There were lots of families, lots of children there. A red SUV came running down the street, hitting a lot of people in the parade…" pic.twitter.com/qpW2z03syD— Brian Stelter (@brianstelter) November 21, 2021
Angelito Tenorio, an alderman in nearby West Allis, Wisconsin recounted the horror to the Milwaukee Journal Sentinel newspaper, which turned celebrations into a tragedy.
"As we were walking back in between the buildings that we saw an SUV crossover, just put the pedal to the metal and just zooming full speed along the parade route," he said. "And then we heard a loud bang, and just deafening cries and screams from people who are struck by the vehicle."
A woman told Milwaukee's Fox6 TV station that the SUV hit a group of girls between 9 and 15 years old and then small groups surrounded the injured girls with white pompoms scattered around.
Spent a good amount of time talking with my mom tonight. She was watching the parade and saw the SUV go by. She was upset that he was going so fast on the parade route. She was cold and heard what happened shortly after she left. We prayed together for all the families involved.— Scott Walker (@ScottWalker) November 22, 2021
Terming the incident as "tragic", Thompson said it is still not clear whether the incident was a terrorist attack, but an earlier shelter-in-place order in the town had been lifted.
Waukesha school officials said public schools would be closed on Monday, though grief counselors would be available.
Wisconsin Governor Tony Evers called the incident a "senseless act" and said his office was awaiting more information.
"I'm grateful for the first responders and folks who acted quickly to help, and we are in contact with local partners as we await more information," he wrote on Twitter.
Kathy and I are praying for Waukesha tonight and all the kids, families, and community members affected by this senseless act. I'm grateful for the first responders and folks who acted quickly to help, and we are in contact with local partners as we await more information.— Governor Tony Evers (@GovEvers) November 22, 2021
The Waukesha Christmas Parade is an annual event that has been held for more than 50 years. The city describes it as a holiday tradition that brings together "local civic groups, business, schools, public services and entertainers each year on the Sunday before Thanksgiving."
Photos shared on the city's Instagram account showed many people sitting on the street along the parade route. The theme this year was "comfort and joy."