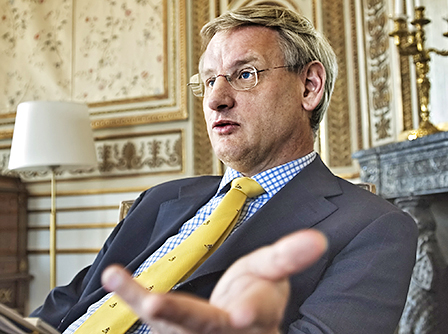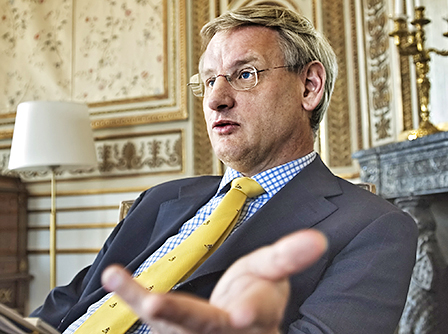 Sweden's foreign minister says Western-backed sanctions against Iran are not effective and the P5+1 talks are the only way to find a solution can be reached.
"The sanctions are part of the scene but they are not the solution," Carl Bildt said on Monday, adding, "The thing that can change things in the near term is the talks."
"There are some people that seem to believe sanctions are going to sort out the problem itself, as if you have sufficiently hard sanctions, the Iranians are suddenly going to fold and say, 'We agree with everything that you've said.' That's a pipe dream," Foreign Policy's The Cable quoted him as saying.
The foreign minister also said that Monday's P5+1 talks with Iran in Geneva are only the first step in a lengthy process that could take many years to come to a conclusion.
"They were at the table one year ago, they were at the table six months ago, and they are at the table again. And I think it's at the table where the solution can be found. I fail to see any solution that is not at the table," Bildt said.
"It will have to be a step by step approach, where you start by some smaller steps before you're ready to take some bigger steps," he stated.
Bildt made the remarks at the IISS Manama Security Dialogue summit on Sunday where he also criticized the sanctions imposed by the United States and Europe.
Yesterday Chinese Foreign Minister Yang Jiechi urged the P5+1 to adopt a "constructive" attitude in the multifaceted talks with the Islamic Republic.
Yang expressed China's readiness to work with the EU and other concerned parties to make great efforts for progress in the talks.
The US and its European allies have pushed for sanctions against Iran over its nuclear program, which they claim is aimed at developing nuclear weapons.
Iran rejects the allegations and argues that as its nuclear activities are fully monitored by the International Atomic Energy Agency, the imposition of sanctions on the country would be unacceptable.